The Belles of St. Trinian's
Directed by
Frank Launder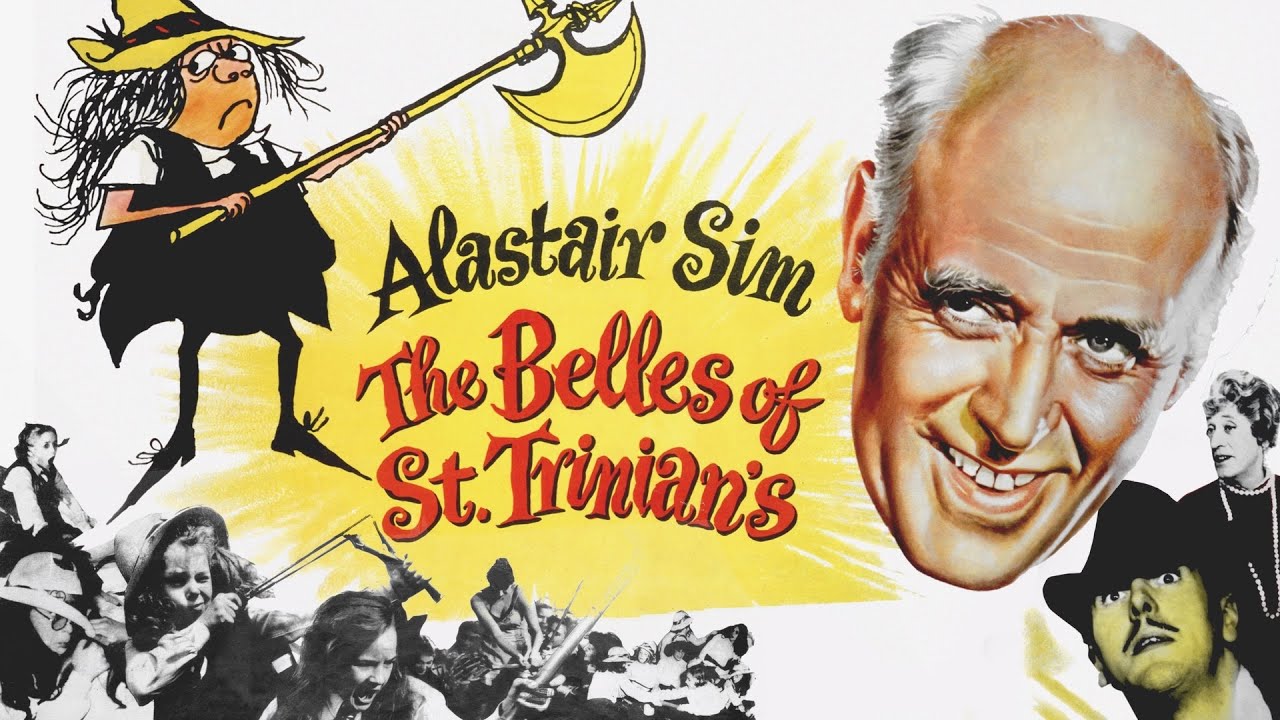 The schoolgirls of St. Trinian's are more interested in racing forms than books as they try to get-rich-quick. They are abetted by the headmistress' brother. In this classic comedy which spawned several sequels, both the headmistress and her brother are played by Alastair Sim. Based on the cartoons of Ronald Searle.
Cast
Alastair Sim

Joyce Grenfell

George Cole

Hermione Baddeley

Betty Ann Davies

Renee Houston

Beryl Reid

Irene Handl

Mary Merrall
Blu-ray Features
The Girls of St. Trinian's featurette
Interview with film historian Geoff Brown
Interview with Dr. Melanie Williams, Senior Lecturer in Film Studies, UEA
Interview with Alastair Sim's daughter, Merlith McKendrick
Interview with Steve Chibnall, Professor of British Cinema, De Montfort University
Discs: 1
"Britain's holiday film gift is a funny antic as delicate as a hotfoot and as trenchant as a Mack Sennett comedy. Credit Alastair Sim with doing excellently by the dual roles he essays. As the headmistress, he is dowdy but not unaware of the machinations of his charges. And, he is convincingly harried as the bookmaker, whose "blood runs cold" when it is noted that his daughter is a chip off the old block. Joyce Grenfell makes a properly gangling, awkward and gullible lady sleuth; George Cole does a few delightful turns as the conniving Cockney go-between and last, but not least, the "Belles of St. Trinian's" rate a vote of confidence for the whacky freedom of expression they exhibit. They all help make St. Trinian's a wonderfully improbable and often funny place to visit."

"Monstrously fun. This is a very funny comedy based on Ronald Searles's cartoons of a horrid girls' school known as St. Trinian's. The plot has to do with the horsenapping of a famous steed that is foiled by some of the school's pupils. Among the girls' antics is using the school's science lab to make gin, which is then sold by the crooked Flash Harry (George Cole). Alastair Sim is brilliant in two roles, playing the headmistress as well as her ne'er-do-well brother. Joyce Grenfell is also quite amusing as a police spy."

"...possibly the boldest, broadest, burlesque feature ever seen."
You May Also Like...