The Maggie
Directed by
Alexander Mackendrick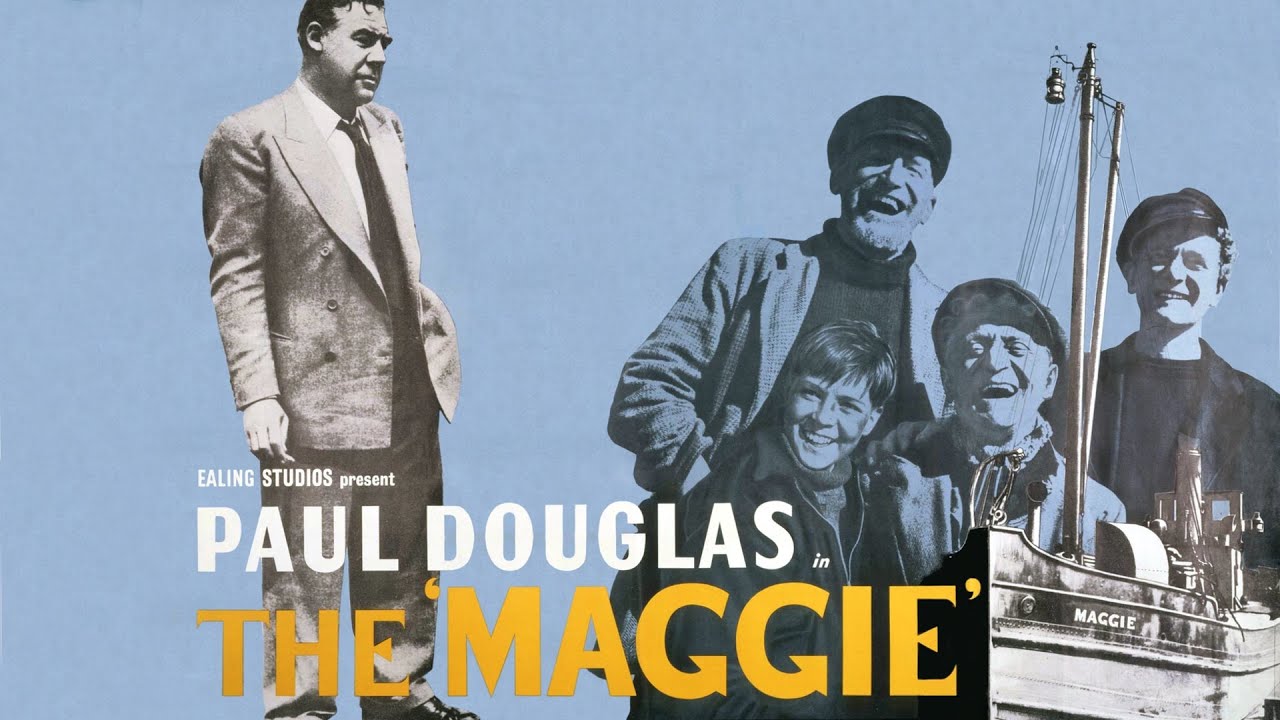 'Maggie' is one of the fifty-odd puffer boats which chug among the Western Isles of Scotland. Squat, unprepossessing, and badly in need of paint, she is destined for the scrap yard unless her skipper can get her repaired. This seems a forlorn hope - until Mr. Pusey makes his mistake. Mr. Pusey works for the high-pressure American businessman, Calvin B. Marshall, who has a valuable cargo to be shipped to one of the isles. And Mr. Pusey's disastrous error is in allowing, through a misunderstanding, the cargo to be entrusted to the humble 'Maggie' with her crew of four. From Ealing Studios and the director of "The Man in the White Suit" and "Whisky Galore!" Originally released in the US as "High and Dry".
Cast
Paul Douglas

Alex Mackenzie

James Copeland

Abe Barker

Tommy Kearins

Hubert Gregg

Geoffrey Keen

Dorothy Alison
"Blessed be Mr. Mackendrick and the canniness of the Scots. Blessed be Michael Balcon and his Ealing Studios. For the smooth combination of all these factors that is represented in this film has resulted in a jolly entertainment that is as bracing as the Hebridean air. Mr. Mackendrick has stuck to the real outdoors for the better part of his picture, and you can feel it, all the way through. It is downright intoxicating. And "High and Dry" is a hearty, wholesome film."

"Director Alexander Mackendrick (The Ladykillers, Sweet Smell of Success) and co-writer William Rose (The Smallest Show on Earth, It's a Mad, Mad, Mad, Mad World) infuse the script with many magical moments throughout, yet succeed in keeping its story dark and amusingly cynical, rather than nostalgic and sentimental. Also worth noting is John Addison's delightful score, with a sweet main theme written for concertina."

"Alexander Mackendrick always managed to bring an undertone of social reality to the comic fantasies he directed for Britain's Ealing Studios, and for that reason they remain in the mind much longer than those of his colleagues. This 1954 effort stars the Hollywood actor Paul Douglas as an American millionaire who has hired an ancient cargo boat to haul a mountain of expensive furniture to his new vacation home on a Scottish island; Mackendrick satirizes the American's bluster and the willful inefficiency of the cranky Scottish crew without compromising the warmth of the utopian dream—the quest for a safe harbor from the franticness of modern life—that motivates the action. "

"Ostensibly, this most underestimated of Ealing comedies is a cross between Whisky Galore! and The Titfield Thunderbolt - a whimsical story about a crew of canny Clydebankers giving a brash American a torrid time after being assigned to carry his property aboard their clapped-out steamer. Don't be fooled, however, by the leisurely pace, the gentle humour and the relatively good-natured conclusion. In reality, it's a wicked little satire on the mutual contempt that underlies Euro-American relations, and few could have handled it with such incisive insight as American-born Scot Alexander Mackendrick. "
Awards & Recognition
Nominated
Best British Film
BAFTA Awards
Nominated
Best British Screenplay
BAFTA Awards
Nominated
Best Film from Any Source
BAFTA Awards
You May Also Like...