Whisky Galore!
Directed by
Alexander Mackendrick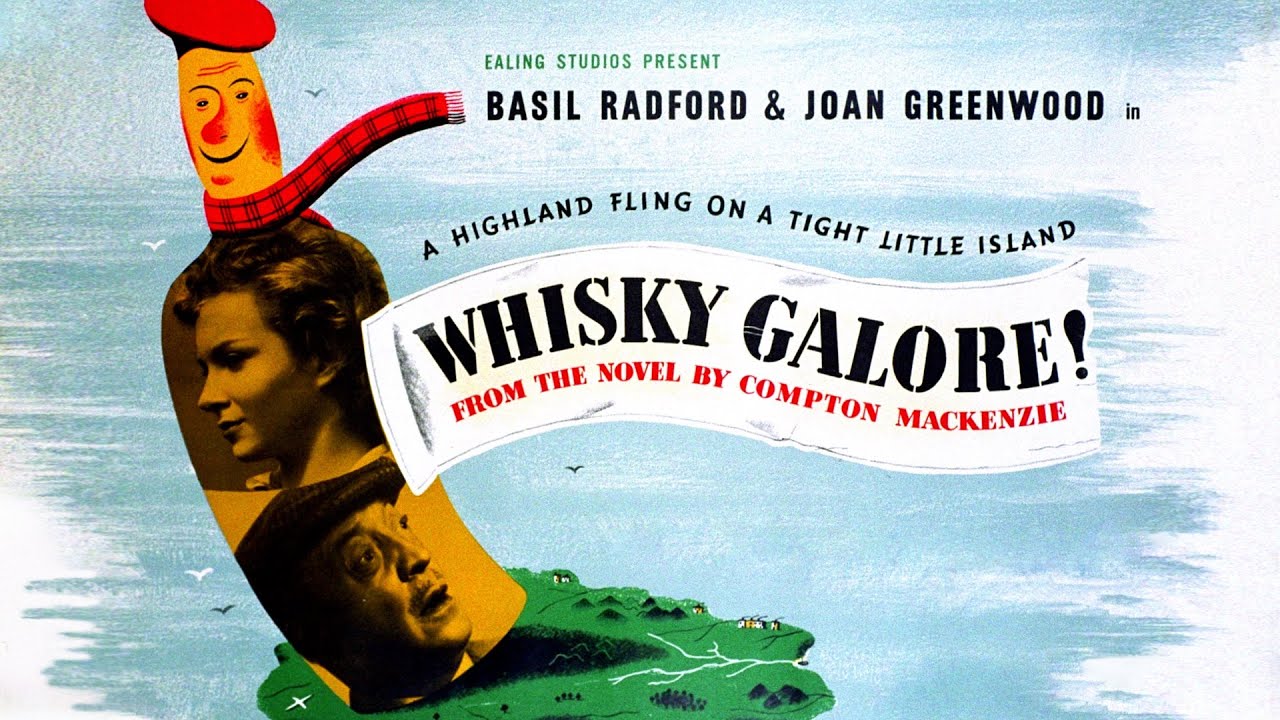 It is 1943 and the tiny remote Hebridean island of Todday is plunged into the depths of despair. Everyone is affected. Spirits are at zero - for Todday is without whisky. Then a ship founders on the rocks, and the islanders guide the crew to safety. The ship's captain and mate reveal that they had on board a cargo of 50,000 cases of whisky bound for America. Held up for a day because it is the Sabbath, the islanders eventually succeed in removing a considerable amount of the cargo and the dawn breaks with a rosy glow on a brighter, happier island. But the whisky does not last forever... Inspired by a true story.
Cast
Basil Radford

Joan Greenwood

James Robertson-Justice

Gordon Jackson

Wylie Watson

Catherine Lacey

Jean Cadell
"As usual for Ealing, the picture is brimming with delightful character portraits, from a dying man's (James Anderson) resurrection with the arrival of the stolen liquor, to mama's boy George's (Gordon Jackson) hilarious defiance of his stern, religious mother (Jean Cadell) after finding courage in several glasses of the newly-opened whiskey. Though a comedy, the film has exceptionally dramatic monochrome photography by Gerald Gibbs, images so good as to evoke memories of another classic of British cinema, Michael Powell's The Edge of the World (1937). The mostly Scottish cast includes perennial favorites like James Robertson Justice, Gordon Jackson, and Duncan Macrae (Finlay Currie narrates), but also eccentrically sexy Joan Greenwood."

"Together with Robert Hamer's Kind Hearts and Coronets and Henry Cornelius' Passport to Pimlico, Whisky Galore! established the Ealing Studios' reputation for producing high quality British comedies. "

"[A] convivial little classic."

"The result is the sweetest, smartest and most joyous of all the Ealing comedies."

"Another happy demonstration of that peculiar knack British movie makers have for striking a rich and universally appealing comic vein in the most unexpected and seemingly insular situations."

"Out of this excellent idea, which less skilled hands might have reduced to farce, the British moviemakers have spun a tight little comedy of pure gold."

"Beguiling, subversive and a complete joy."

"Alexander Mackendrick's sublime film is one of the jewels in the Ealing crown."

"One of three Ealing comedies released in 1949 (the others were Passport to Pimlico and Kind Hearts and Coronets), and remains by far the sharpest, freshest and most resonant."
Awards & Recognition
Winner
Top Foreign Film
National Board of Review
Nominated
Best British Film
BAFTA Awards
You May Also Like...