Passport to Pimlico
Directed by
Henry Cornelius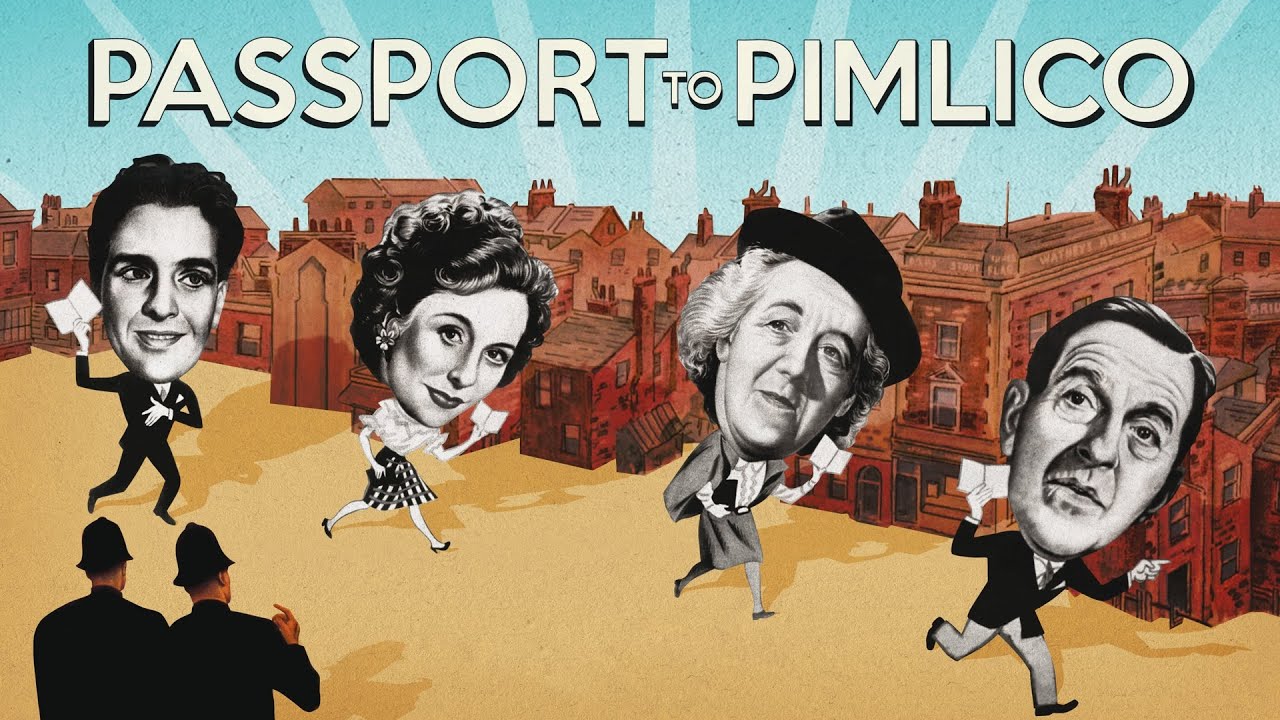 Blu-ray
$29.95 $19.98 Members
$39.95 $19.98 Non-Members
DVD
$24.95 $17.48 Members
$34.95 $17.48 Non-Members
Pimlico dozes during the worst heat wave for years... until London's last unexploded bomb goes off with a deafening roar, flinging the people headlong into a fantastic adventure. Arthur Pemberton and his daughter Shirley, investigating the crater made by the bomb, find treasure and an old document decreeing that Pimlico can be recognized in perpetuity as Burgundian soil. The residents, quick to see the opportunities, dispense with licensing laws, and put themselves on the export list of English firms. The British Government steps in, wires off 'BURGUNDY', sets up customs barriers and cuts off water and electricity.
Cast
Stanley Holloway

Hermione Baddeley

Margaret Rutherford

Paul Dupuis

Basil Radford

Naunton Wayne

Betty Warren

Barbara Murray

Jane Hylton
Blu-ray Features
Interview with BFI Curator Mark Duguid
Locations Featurette with Film Historian Richard Dacre
Restoration comparison
Stills gallery
Sound: Mono
Discs: 1
DVD Features
Interview with BFI Curator Mark Duguid
Locations featurette with film historian Richard Dacre
Restoration comparison
Stills gallery.
Discs: 1
"The picture is almost endlessly clever and rather Swiftian in its amusing critique of bureaucracy, nationalism, and isolationism. Once the premise has been established, the script plays out all the satirical possibilities of a tiny nation of Londoners joyfully, fleetingly separated from Mother England. The film has some nice surprises and sharp dialogue.... A true ensemble comedy, no one performer dominates Passport to Pimlico, though many performances and characters stand out, among them: Stanley Holloway's stalwart Burgundian prime minister; John Slater's fish-loving fishmonger; deliriously eccentric Margaret Rutherford's daffy historian. Basil Radford and Nauton Wayne, so marvelous in Hitchcock's The Lady Vanishes turn up here as a pair of concerned government ministers."

"Loveably dotty, while still smartly caustic (with a broad political message beneath its sly humour), this is the Ealing ethos at its very best. Indeed, with its communal hi-jinks, rich swathe of eccentric characters, and madly original plot it could be their most complete film. Who else would think up such a neat ploy as this tidy corner of London, populated with salt-of-the-Earth types, declaring themselves independent? It is a comedy about what is means to be British. Arguably, the subject of every single Ealing comedy, but never so piquantly observed as here."

"The cosiest of the Ealing comedies, this is essentially a one-joke affair that is spun out with masterly skill by that most gifted teller of shaggy-dog stories, TEB Clarke, who received an Oscar nomination for his story and screenplay. "

"Newly restored 1949 comedy classic Passport to Pimlico is a fine example of a post-war comedy produced by the renowned Ealing Studios. Written by the highly talented T.E.B Clarke, (who was responsible for another comedy classic, 1951's The Lavender Hill Mob) and directed by Henry Cornelius, Passport to Pimlico shows a great understanding of the mechanics of not only great writing but also of comedy. The performances are also of the highest calibre, featuring the magnificently eccentric Margaret Rutherford (who is perhaps best known for her Miss Marple films of the 1940s and 50s). Comedy stalwarts also feature including Hermione Baddley as Edie and an early performance from Charles Hawtrey before he joined ranks with Sid James and Kenneth Williams in the Carry On films."

"Perhaps the most Ealingish of the Ealing comedies, celebrating the cosy sense of wartime togetherness recaptured when the inhabitants of Pimlico, discovering their hereditary independence from Britain, set up a restriction-free (but soon beleaguered and ration-hit) state. "

"The best of the two films, and the best Ealing comedy I can recall, is PASSPORT TO PIMLICO, from 1949 and full of wonderful British character actors (that's Margaret Rutherford, at left, above; Stanley Holloway, center, and Canada's Paul Dupuis, right), many from the Ealing stable, and using a simply splendid situation with which to bring out the fine British humor, irony and overall delight."
Awards & Recognition
Nominated
Best Writing, Story & Screenplay
Academy Awards
Nominated
Best British Film
BAFTA Awards
Official Selection
Cannes Film Festival
You May Also Like...