Alastair Sim's School for Laughter: 4 Classic Comedies
Directed by
Frank Launder
,
Mario Zampi
,
Robert Hamer
,
Charles Crichton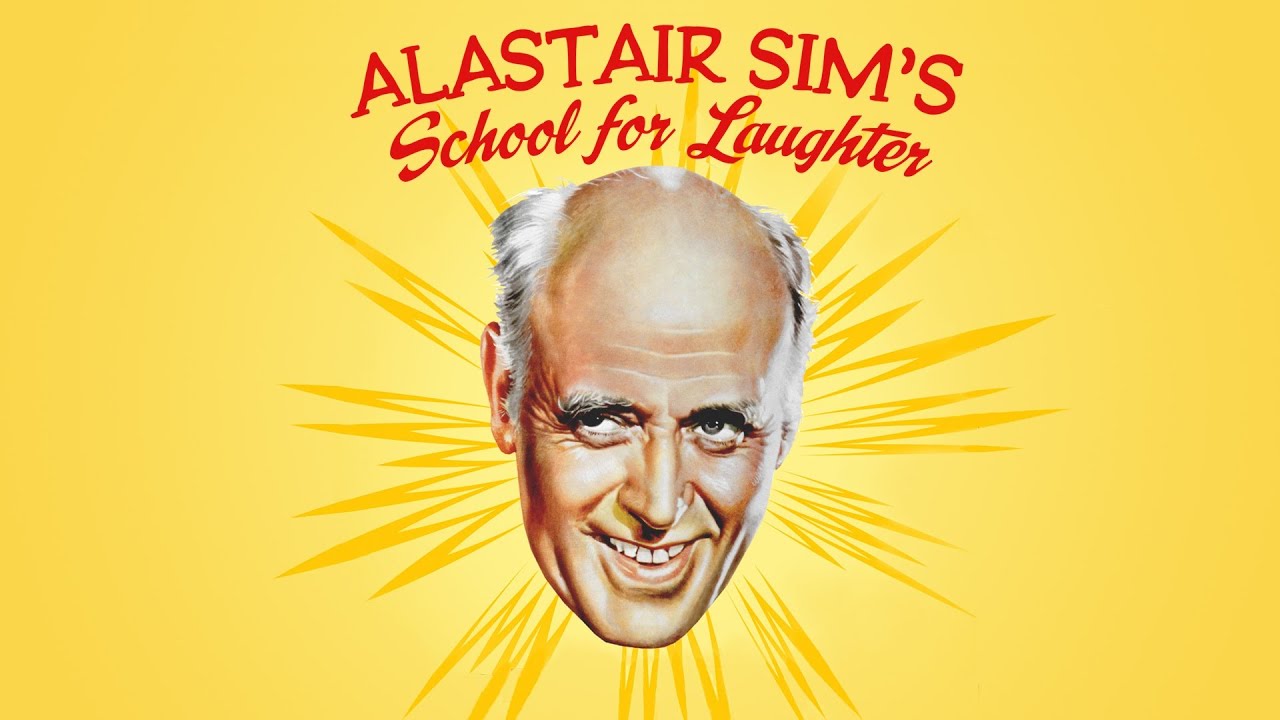 Perhaps best remembered as Ebenezer Scrooge in A Christmas Carol, Alastair Sim became a leading star of British cinema after spending five years as a lecturer of elocution at the University of Edinburgh. Classes are now back in session, as Sim demonstrates the fine art of comedy in this hilarious 4-disc collection spotlighting his most laughter-inducing film roles.

THE BELLES OF ST. TRINIAN'S (1954, directed by Frank Launder)
The schoolgirls of St. Trinian's are more interested in men and mischief than homework and hockey, but even greater trouble beckons with the arrival of two new students. Features Alastair Sim playing dual roles as the headmistress, Miss Millicent Fritton, and her twin brother, Clarence.

SCHOOL FOR SCOUNDRELS (1960, directed by Robert Hamer)
Henry Palfrey (Ian Carmichael) tries hard to impress but always loses out to the rotter Delauney (Terry-Thomas). Then he enrolls in the "College of Lifemanship" run by "Professor" Stephen Potter (Alastair Sim) and learns "how to win without actually cheating!"

LAUGHTER IN PARADISE (1951, directed by Mario Zampi)
Practical joker Henry Russell (Hugh Griffith) leaves 50,000 pounds to his four surviving relatives, including his cousin, retired army officer Deniston Russell (Alastair Sim). There's just one stipulation – each of them has to undertake a task completely out of character for one month.

HUE AND CRY (1947, directed by Charles Crichton)
The first of the Ealing Studios "comedies." After discovering that his favorite comic is being used to send messages between a master criminal and his gang of thieves, teenager Joe Kirby (Harry Fowler) sets out to alert writer Felix Wilkinson (Alastair Sim) and turn the page on the crooks.
Cast
Alastair Sim

Ian Carmichael

Hugh Griffith

Joyce Grenfell

George Cole
Blu-ray Features
The Belles of St. Trinian's:
Interview with Geoff Brown
Interview with Melanie Williams
Interview with Alistair Sim's Daughter - Meredith McKendrick
Interview with Steve Chibnall
The Girls of St Trinian's

School for Scoundrels:
School for Scoundrels Trailer
Interview with Peter Bradshaw
Interview with Graham McCann
Interview with Chris Potter

Hue and Cry:
Interview with Steve Chibnall
Location Featurette

Booklet with notes, written by film scholar Ronald Bergan
Sound: Mono
Discs: 3
"...a delightful sampler of British film star Alastair Sim's best comedy films of the 40s and 50s, all beautifully restored (especially for fans of fine black and white photography) and augmented with a number of bonus features."

"Kudos to Film Movement Classics for remembering Mr. Sim – his style of comedy (and drama) has never been matched. The transfers of each film are never less than fine – the standouts being School for Scoundrels and Hue and Cry which are gorgeous. They've also added a number of well-produced extras including interviews with cast members and short documentaries on certain aspects of the films (a contemporary look at the locations for Hue and Cry is particularly moving)."

"The impressive Film Movement label has released this 4-disk package that highlights a quartet of notable Alastair Sim appearances in what are deemed to be among the best post-war "very British" comedies….Film Movement's high definition digital restorations (from StudioCanal) are spectacularly good. If this is an example of the company's quality control, then Film Movement will be a major competitor to other classic film Blu-ray/DVD labels. All four titles in this wonderful package are gems. Towering over them is the charismatic presence of the amazing Alastair Sim, who commands the screen and will make you laugh. Highly recommended."

"Alastair Sim's School for Laughter is another unmissable set of classic British films ripe for rediscovery in the U.S. Highly Recommended."

"Films made up of interwoven stories are notoriously difficult to do well, as it's all too easy either to lose the thread of the difficult episodes or to become impatient with the less substantial ones. That director Mario Zampi nearly brings off the trick here is almost entirely down to the fantastic performance of Alastair Sim as the henpecked thriller writer whose inheritance depends on him receiving a 28-day jail sentence. The scene in which he tries to shoplift is one of the funniest in a career overladen with choice comic moments. Sim's is exceptional."

"Terry-Thomas in particular is outstanding as a classic British bounder ... Sim creates another memorably eccentric authority figure, and the supporting cast includes such comedy stalwarts as John Le Mesurier, Hattie Jacques (who were married at the time) and Irene Handl."

"Monstrously fun. This is a very funny comedy based on Ronald Searles's cartoons of a horrid girls' school known as St. Trinian's. The plot has to do with the horsenapping of a famous steed that is foiled by some of the school's pupils. Among the girls' antics is using the school's science lab to make gin, which is then sold by the crooked Flash Harry (George Cole). Alastair Sim is brilliant in two roles, playing the headmistress as well as her ne'er-do-well brother. Joyce Grenfell is also quite amusing as a police spy."

"If you're looking to acquaint yourself with the golden age of British cinema, School For Scoundrels is an excellent place to start."

"Producer-director Mario Zampi's delightful 1951 British comedy is a minor classic, enshrining one of Alastair Sim's most treasurable performances as a henpecked thriller writer and providing eagerly grabbed showcases for showy turns by some of Britain's finest comedy players of the era."

"Most Ealing films are worth watching. But Hue and Cry is truly adorable. Scripted by TEB Clarke, who also wrote Passport to Pimlico and The Blue Lamp, and directed by Charles Crichton, who went on to helm The Lavender Hill Mob, it's a near-perfect synthesis of comedy, action thriller and social drama."

"...full of welcome surprises, topped off with a climax which sees what looks like every boy in London joining in to foil the evildoers' schemes then transforms into a chase through a dilapidated building filmed like a horror movie. A gem."

"With this month's release of these classic Sim comedies, along with last month's offering of fine British war films -- both partnered by Film Movement and Studio Canal -- viewers are getting a very nice taste of British classics along with some wonderful accompanying Bonus Features. More please!"

"Chances are if you are like many, maybe even most, American filmgoers, you tend to associate Alastair Sim with one thing and one thing only: his inimitable portrayal of one Ebenezer Scrooge in the 1951 ... A Christmas Carol. A few outliers might have vague memories of Sim in such underappreciated gems as Green for Danger... but quite a bit of the rest of Sim's multi-decade long filmography just doesn't seem to be that well known by the public at large on this side of the pond. Film Movement has now come to the rescue in that regard and assembled four charming Sim comedies that bridge the years of 1947 to 1960, and which offer a fine assortment of well written, performed and directed outings that have a few linking elements besides Sim himself, including plots sometimes centered around the quest for riches, and occasionally with some chicanery and other shenanigans involved…. [A]n attractive collection for fans of the actor or of mid-century British films in general. Technical merits are generally solid, and the supplemental package quite interesting. Highly recommended."
You May Also Like...