Tahara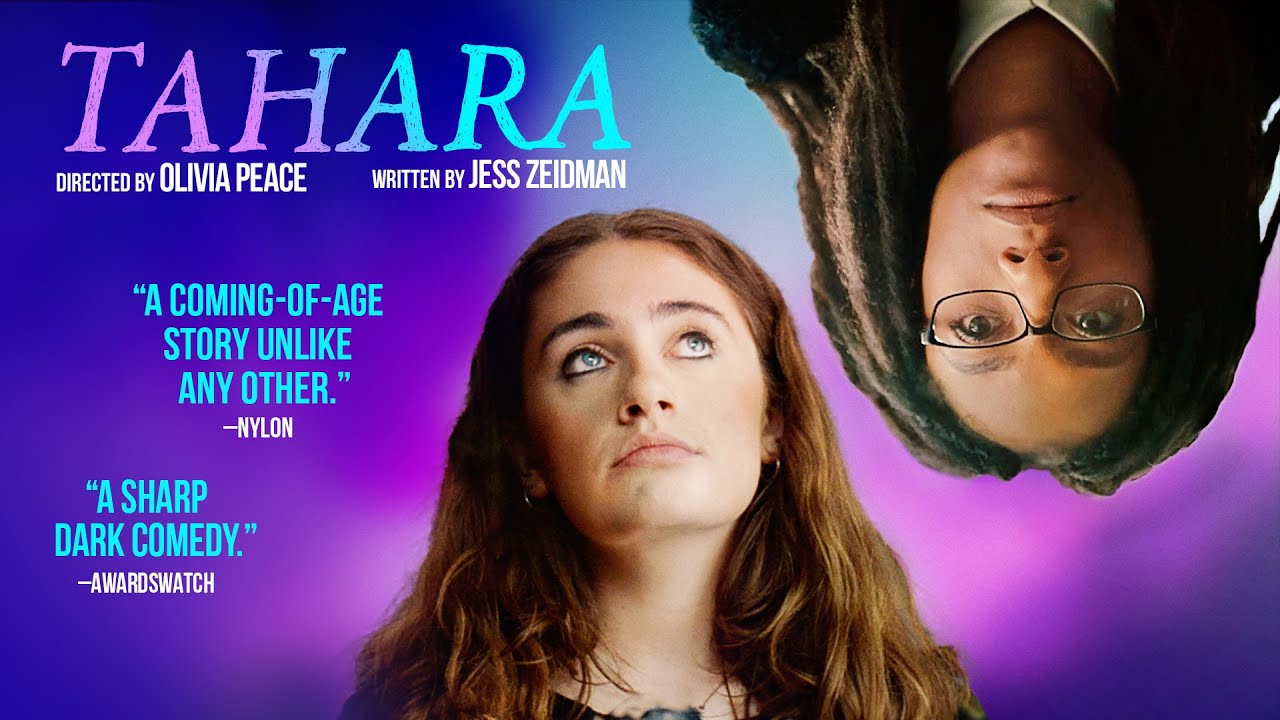 In this acerbic teen comedy, a funeral becomes a battleground between best friends Carrie Lowstein (Madeline Grey DeFreece) and Hannah Rosen (Rachel Sennott, breakout star of SHIVA BABY). When their former Hebrew school classmate commits suicide, the two girls attend her funeral as well as the "Teen Talk-back" session hosted by their synagogue, designed to be an opportunity for them to understand grief through Judaism. Hannah, more interested in impressing her crush Tristan (Daniel Taveras), convinces Carrie to practice kissing with her, unlocking feelings that turn Carrie's world upside down. Emotions heightened, the scene develops into a biting depiction of unrequited crushes, toxic friendships, and wavering faith, which ComingSoon calls "one of the most original films in the coming-of-age subgenre in a long time."
Cast
Rachel Sennott

Madeline Grey DeFreece

Daniel Taveras

Bernadette Quigley
DVD Features
Audio Commentary with director Olivia Peace, writer Jess Zeidman, cinematographer Tehillah de Castro, editor Troy Lewis, and sound designer Justin Enoch
Discs: 1
"Critic's Pick! This is a canny, compact portrait of teenage insensitivity, all the more riveting for its biting dialogue and funny performances."

"So much conversation can be had around this film, which is why it's a must-watch. It's a sharp dark comedy with fantastic lead performances from Madeline Grey DeFreece and Rachel Sennott. It's a unique debut, and with poignancy shows the importance of growing into ourselves and out of toxic relationships."

"Writer Jess Zeidman and director Olivia Peace are very good at teasing out the complex social rules of teenage life and exploring the effects on their protagonists of moving from this into a more adult world. Filmed in a real synagogue (Temple Beth-El in Rochester, New York), Tahara perfectly captures the mood of the place and the juxtaposition of its efforts to spread wisdom and awareness with the chaotic lives of its young attendees. It is both a portrait of a community and an exploration of where community comes from. It is at its best, however, when exploring the uncertain ground between intense platonic friendships and erotic connection between girls, with all its potential for miscommunication and heartbreak."

"It is a lovely step for representation that challenges the ideal of white Jewish characters being the only ones onscreen, and may be the only example I can name of a queer black Jewish teenage girl being allowed to exist on film. It is a lovely bit of truth, and a story that needs to be seen, and the film is made in such an intimate, creative manner that it is hard not to love it."

"Most appealing was how perfectly the dialogue, pacing, and fantasy animations inclusively capture post bar/bat mitzvah adolescents, including manipulative Mean Girls."

"Unfurling compellingly more or less in real time, director Olivia Peace and screenwriter Jess Zeidman-both making impressive feature debuts-establish an acerbic, The Breakfast Club type atmosphere"

"Kudos to screenwriter Jess Zeidman for writing such rich characters, and to the ensemble for keeping them authentic."

"That Peace and Zeidman can take this funny, catty, high school comedy of immature kids and transform it into a weighty drama with authentic consequences is no small feat."

"Brilliantly crafted, intelligent, honest, funny, stylishly cinematic, and serves as a powerful feature debut for director Olivia Peace and screenwriter Jess Ziedman."

"This is truly one of the most original films in the coming-of-age subgenre in a long time."

"Peace's film emerges as a keen-eyed examination of contemporary teenage intimacy."

"Tahara delivers some characters and situations that don't always get an opportunity to be explored, but deservedly should. It's an impressive feature on all fronts, and its staying power, at least for me, speaks bounds."

"Olivia Peace's first feature film Tahara could well be the start of a promising career for the talented director. A Sundance and TIFF Next Wave official selection, with great performances from Rachel Sennott (as Hannah) and Madeline Gray DeFreece (as Carrie), this interesting coming-of-age feature film is a must-watch."

"Tahara would be nothing without the wonderful performances of Sennott and DeFreece. I can't say enough about the acting. I would also be remiss in not highlighting how funny Tahara is. Lastly, yes, we've seen high school classrooms in comedies of the past with your stereotypical cliques. Tahara's handling of this tried-and-true comic set-up feels fresh and alive."

"Tahara... packs a masterful punch. If Jennifer's Body is the horror story of female friendship in adolescence, with lots of sexuality thrown in, then Tahara is the quiet, personal drama version of the very real type of relationship that many sapphics have with their friends. It's the type of story I never tire of seeing, and it's the kind of debut feature that makes me really excited for the creative careers of Peace and Zeidman."

"A provocative and often funny study of teen angst that morphs into an emotional thriller...."

"This is a smart, funny, and poignant film...."
Awards & Recognition
Winner
Directorial Feature Debut Black LGBTQ+ Filmmaker Award
NewFest
Winner
Special Mention
L.A. Outfest
Winner
American Independent Award
Denver Film Festival
Nominated
Grand Jury Prize
Slamdance Film Festival
Nominated
Grand Jury Prize
Nashville Film Festival
Official Selection
New York Jewish Film Festival
Official Selection
Philadelphia Jewish Film Festival
Official Selection
Frameline Film Festival
Official Selection
Boston Jewish Film Festival
Official Selection
TIFF Next Wave Film Festival
You May Also Like...