Miracle
Directed by
Bogdan George Apetri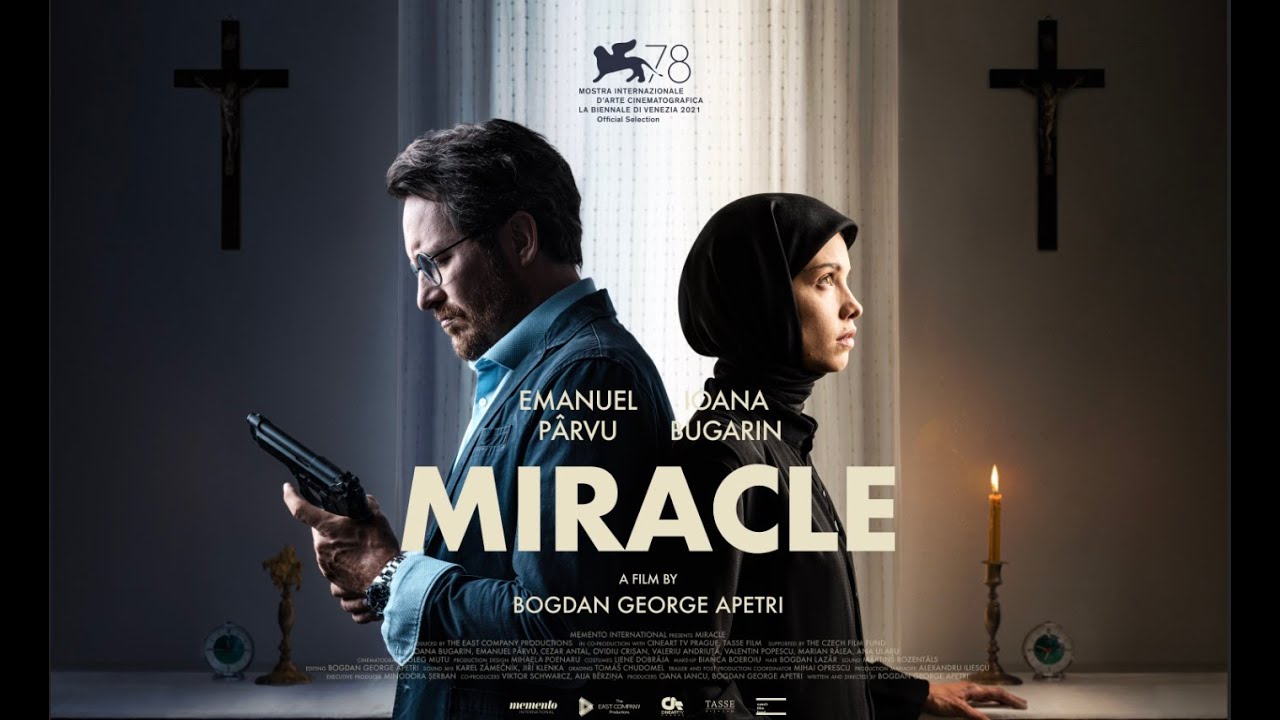 Divided into two chapters, director Bogdan George Apetri's MIRACLE begins with the young, beautiful Cristina Tofan (Ioana Bugarin) sneaking away from an isolated convent. Working in the style of the Romanian New Wave, Apetri withholds key information about her motives as we follow her enigmatic journey, allowing tension to steadily build to a wavering precipice. The film's second part follows Marius Preda (Emanuel Pârvu), a determined inspector retracing Cristina's steps days after her departure. Here, the narrative opens into both gripping police thriller and devastating social commentary, as Marius gradually uncovers clues and revelations leading not only to the unfathomable truth behind Cristina's mysterious actions, but possibly, to an actual miracle as well.
"This true crime thriller offers a glimpse of issues of religion, personal beliefs, and social commentary. Ultimately, the film ends with an understanding of Tofan's actions and an understanding of the title of this film...This title is recommended for collections supporting the study of contemporary international film." - EMRO

"Unlike any recent film I've seen. Highly Recommended." - The Sound View
Cast
Ioana Bugarin

Emanuel Parvu

Cezar Antal

Ovidiu Crisan

Valeriu Andriuta
DVD Features
BONUS FEATURES
- Commentary by director Bogdan George Apetri
- Deleted Scene
- BONUS SHORT FILM:
A Very Small Trilogy of Loneliness
Directed by Bogdan George Apetri
Romania | No Dialogue | 7 minutes

A man, a woman, and a child are seen by themselves at an
isolated location in three sequences that convey a haunting
sense of longing and alienation.
Discs: 1
"A crime drama that could rekindle Romanian cinema. Bogdan George Apetri holds the audience and then, in the last scene, melts it with a single audacious teardrop."

"Miracle lives up to its name, seamlessly blending narrative, style and technique with devastating results. Simple in scope, yet complex and precise in its execution, the result is a marvel befitting its title."

"Miracle retains its stranglehold for a swift-seeming two hours and ends with images that ensure plenty to chew over afterwards. The director's approach is devastatingly effective."

"Bogdan George Apetri offers a rare, gripping Romanian thriller that tells an unpredictable, violent story while commenting on Romanian society."

"There's no point burying the lead — Miracle, the new film from Bogdan George Apetri, is a masterpiece.... "

"[U]nfolds with dexterity and suspense."

"From the very outset, this film is fraught with tension. Apetri builds it up slowly, skilfully, never overplaying his hand. It is only in the last few moments that viewers will feel able to breathe freely."

"The real miracle of this film is in its performances and direction."

"Hypnotic and ambiguous, it is a superb exercise in suspense, a stirring moral puzzle that leaves you breathless."
Awards & Recognition
Winner
Grand Prix
Warsaw Film Festival
Nominated
Best Film
Venice Film Festival Orizzonti
Nominated
Best Int'l. Feature Film
Zurich Film Festival
Official Selection
Vancouver Int'l. Film Festival
Official Selection
Hamburg Film Festival
You May Also Like...