Goldie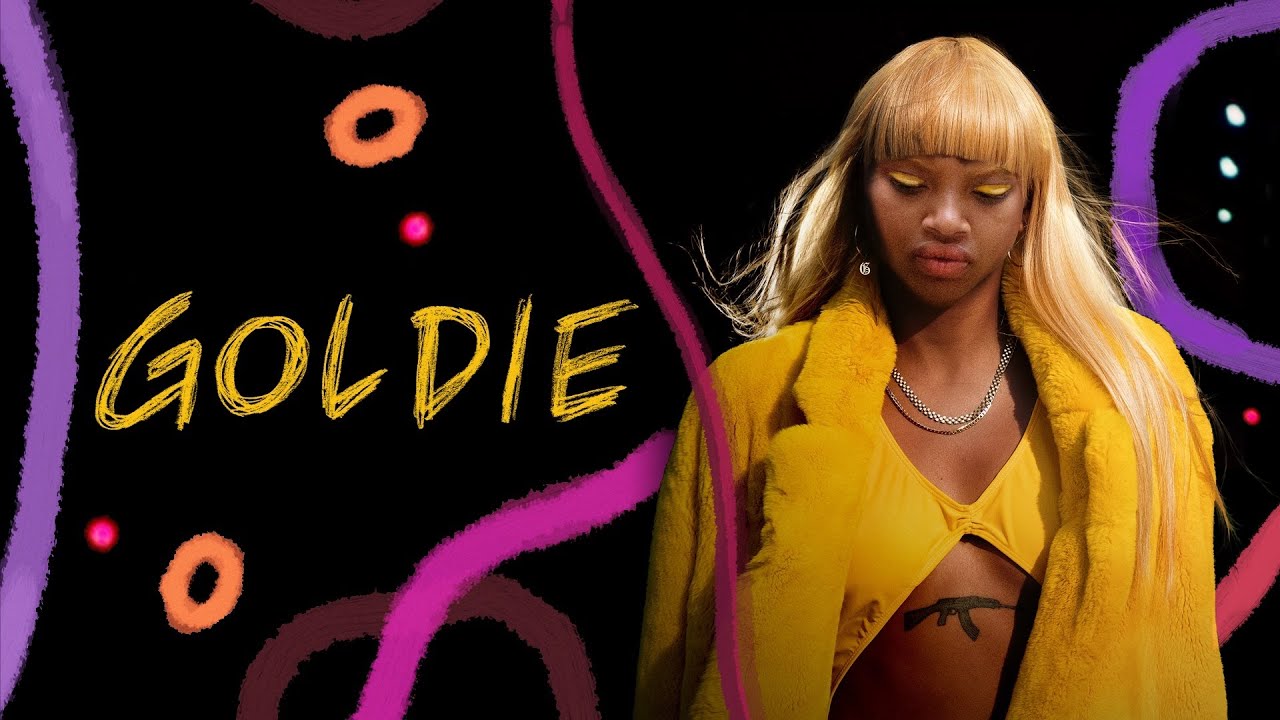 Goldie is a star – well, not quite yet, but at least in the eyes of her little sisters Sherrie and Supreme she is. The rest of the world is bound to take note soon too. Her big break surely awaits, she's just got to pick up that golden fur coat she's had her eye on first. And land a role as a dancer in a hip-hop video. And keep child welfare services from separating her from Sherrie and Supreme, after their mother is locked up. Holding onto those dreams isn't easy when fate has placed such daunting obstacles in her path. With Goldie, Dutch director Sam de Jong has delivered a real New York film: raw and glamorous, unflinchingly realistic and relentlessly optimistic, with a ton of heart and at least as much attitude.
"The sense of an urban fairy tale - albeit one that never stoops to condescension or saccharine sweetness - is supported by occasional animation sequences that surround Goldie with rainbows and starbursts of hand-drawn color patterns. Recommended" - C. Cassady, Video Librarian
Cast
Slick Woods

Danny Hoch

Marsha Stephanie Blake

Gbenga Akinnagbe

Edwina Findley Dickerson

Khris Davis
DVD Features
Short film We Love Moses
Discs: 1
"Sam de Jong delivers a fresh take on the classic ambitious New Yorker movie featuring model Slick Woods of Fenty fame in her debut role as a plucky, grinning dreamer from the Bronx named Goldie. Hyperchromatic and gorgeously fragmented...this movie is a burst of spring on winter screens."

"De Jong brings a jolt of brash energy to a social realist scenario that could easily have attracted Ken Loach or the Dardenne brothers. A charismatic, eye-catching debut performance from Instagirl fashion world star Slick Woods adds considerably to the film's appeal."

"Suspension between can-do spirit and come-down reality pumps blood into the irrepressible heart of this scrappy tale, along with the natural charisma of model Slick Woods, making a disarming feature debut in the title role."

"Sam de Jong seems to take visual inspiration from the Safdie brothers, capturing Goldie's Bronx neighborhood with an unrelenting grit and colorful charm. Goldie is a bold expression of creativity both in front of and behind the scenes; supporting a film like this is paramount to showing the industry that art films matter."

"Goldie (played by fashion model Slick Woods in her first movie role) is a lot like the film that bears her name: full of attitude, bursting with scrappy New York style, and stuck under the thumb of a merciless system that won't let her shine like she knows she can. "

"Woods isn't just a fresh face; she has an original look, and she's absolutely captivating. Even when Goldie is making terrible decisions, you can't help rooting for her."

"Tremendously alluring, Woods, a fashion model making her feature acting debut, commands a slew of supporting players — each fancifully introduced — by harnessing all the elements that make up Goldie: her tarnished innocence, a survivalist mentality and undying hope. Woods detonates an explosion of raging emotions."

"Woods, remarkably comfortable in her first film role, gives Goldie a steel spine and a feisty resourcefulness, her moments of vulnerability rare, but essential. "

"Woods' performance as Goldie is especially strong for a debut, capturing the volatile emotional state of a teenager on the verge of adulthood, oscillating quickly between joy, melancholy, and rage. Much of her performance rests on her expressive face, and she carries herself with a swagger and self-assuredness that is instantly endearing. "

"Model Slick Woods gives a breakthrough performance as the protagonist, building up a charismatic, spontaneously funny and outrageously feminist character with truthful passion. "

"Writer/director Sam de Jong's electric touches light up the screen with humanistic hues: we are in a colorful and energetic corner of the Bronx, following a young woman...played by Instagram model Slick Woods in a stunning debut performance...."

"In the confident hands of Dutch writer-director Sam de Jong, Goldie's story is one of big dreams and harsh realities, and the difficulty in learning one's limits. With vibrantly expressive aesthetics that match the energy of its defiant and distressed heroine, this impressive coming-of-age indie...heralds the arrival of both a distinctive new filmmaking voice and a leading lady with charisma to burn."

"Goldie is fun, brisk and beautiful, and it features one of the most infectious star turns in recent memories. "
Awards & Recognition
Official Selection
Tribeca Film Festival
Nominated
Crystal Bear
Berlin Int'l. Film Festival
You May Also Like...