Bursting with the colorful street style & music of Nairobi's vibrant youth culture, RAFIKI is a tender love story between two young women in a country that still criminalizes homosexuality. Kena and Ziki have long been told that "good Kenyan girls become good Kenyan wives" - but they yearn for something more. Despite the political rivalry between their families, the girls encourage each other to pursue their dreams in a conservative society. When love blossoms between them, Kena and Ziki must choose between happiness and safety.

Initially banned in Kenya for its positive portrayal of queer romance, RAFIKI won a landmark supreme court case chipping away at Kenyan anti-LGBT legislation. Featuring remarkable performances by newcomers Samantha Mugatsia and Sheila Munyiva, RAFIKI is a hip tale of first love "reminiscent of the early work of Spike Lee" (Screen Daily) that's "impossible not to celebrate" (Variety)!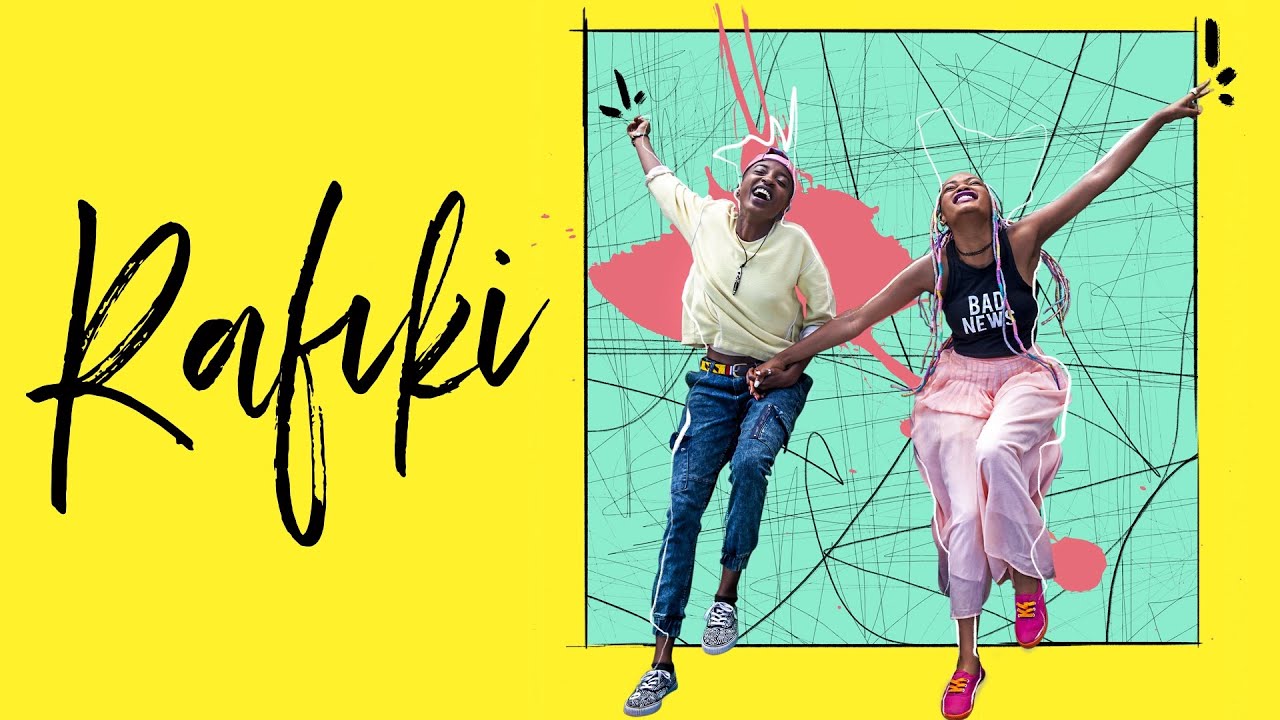 "[A]t home, where homosexuality remains a criminal offense, "Rafiki" has been slapped with a ban for its positive representation — a state of affairs that makes this lively, brightly performed film impossible not to celebrate...."

"[A] vibrant, pulsing piece of work, keying off the joy of young love and unexpected discovery. "

"[W]ith Rafiki, the director has produced a wholly new vision of African filmmaking that is vibrant, compassionate, and joyous."

"A burst of unfiltered teenage energy. Lively and full of vision! [Kahiu] has a wonderful eye for detail and lyricism."

"***** (5 stars) Gorgeously shot and with a luminous colour palette, Kahiu has crafted a visually arresting and sensual film, but one laced with innocence."

"A dynamic, smoothly-executed tale of impossible love that brings fresh energy to a subject that may seem overly familiar to western eyes. ...[R]eminiscent of the early work of Spike Lee."

"[B]y framing an effervescent lesbian romance against a backdrop of political allegiance and the societal taboos surrounding LGBTQ rights, Rafiki finds its voice – and deserves to shout it, loud and clear."

"It's undoubtedly a shame that the film's home country wasn't initially willing to acknowledge the beauty of Rafiki's depictions of lesbian love and countless other real-life same-sex relationships. Kahiu's film reinforces that being who you are and loving in spite of the opinions of others is still a revolutionary act. So cheers to the Kenyan viewers, who now have the opportunity to see Rafiki for what it is — colorful, warm and real. Rating: 5/5"

"The story's simplicity and directness are a big part of its charm."

"...a dizzyingly beautiful love story of two young women coming of age in a place that's hostile to what brings out the best in them."

"While Western countries are still struggling to produce many queer stories that don't end in misery and death, or that focus solely on the white male experience, the Kenyan-focused, neon-pink romance of Rafiki is exactly what the world needs."

"Rafiki is a stunning lesbian love story - in a place where that's forbidden."
Official Selection
Cannes Film Festival
Official Selection
Toronto Int'l. Film Festival
Winner
Audience Award - Best Narrative Feature
NewFest
Winner
Jury Award for Best Feature
OUTShine Film Festival
Official Selection
Sydney Film Festival
Official Selection
Chicago Int'l. Film Festival
Official Selection
Mill Valley Film Festival
Official Selection
AFI Fest
Official Selection
Palm Springs Int'l Film Festival
Official Selection
NewFest
Official Selection
Inside Out Ottawa LGBT Film Festival
Official Selection
Outfest Fusion
| Venue | City | State | Begins | Ends |
| --- | --- | --- | --- | --- |
| Toronto Int'l Film Festival | Toronto | ON | September 6, 2018 | September 16, 2018 |
| Montréal Festival du Nouveau Cinema | Montréal | QC | October 3, 2018 | October 14, 2018 |
| Reel Pride Film Festival | Winnipeg | MB | October 9, 2018 | October 14, 2018 |
| Chicago International Film Festival | Chicago | IL | October 10, 2018 | October 21, 2018 |
| Mill Valley Film Festival | San Rafael | CA | October 12, 2018 | October 13, 2018 |
| OUTshine Film Festival | Miami | FL | October 18, 2018 | October 28, 2018 |
| Art Gallery of Hamilton | Hamilton | ON | October 19, 2018 | October 19, 2018 |
| Independent Film Festival Boston | Cambridge | MA | October 20, 2018 | October 20, 2018 |
| Rainbow Reels Queer and Trans Film Fest | Kitchener | ON | October 20, 2018 | October 20, 2018 |
| TWIST: Seattle Queer Film Festival | Seatttle | WA | October 21, 2018 | October 21, 2018 |
| Milwaukee Film | Milwaukee | WI | October 22, 2018 | November 1, 2018 |
| Newfest - The New York Gay & Lesbian Film Festival | New York | NY | October 24, 2018 | October 30, 2018 |
| Philadelphia Film Festival | Philadelphia | PA | October 27, 2018 | October 28, 2018 |
| DeBartolo Performing Arts Center | Notre Dame | IN | October 27, 2018 | October 27, 2018 |
| Windsor International Film Festival | Windsor | ON | October 29, 2018 | October 29, 2018 |
| Denver Film Festival | Denver | CO | October 31, 2018 | November 11, 2018 |
| Virginia Film Festival | Charlottesville | VA | November 1, 2018 | November 4, 2018 |
| St. Louis International Film Festival | St. Louis | MO | November 1, 2018 | November 11, 2018 |
| Citizen Jane Film Festival | Columbia | MO | November 1, 2018 | November 4, 2018 |
| Scottsdale Int'l Film Festival | Scottsdale | AZ | November 2, 2018 | November 11, 2018 |
| Loft | Tucson | AZ | November 8, 2018 | November 15, 2018 |
| AFI Fest | Los Angeles | CA | November 8, 2018 | November 15, 2018 |
| South Western International Film Festival | Toronto | ON | November 8, 2018 | November 11, 2018 |
| Inside Out Lesbian and Gay Fest | Ottawa | ON | November 9, 2018 | November 12, 2018 |
| Film Society of Lincoln Center | New York | NY | November 9, 2018 | November 11, 2018 |
| Regent Park Film Festival | Toronto | ON | November 14, 2018 | November 17, 2018 |
| North Bay Film Festival | North Bay | ON | November 16, 2018 | November 18, 2018 |
| Bloomington PRIDE | Bloomington | IN | January 1, 2019 | January 2, 2019 |
| Palm Springs International Film Festival | Palm Springs | CA | January 3, 2019 | January 14, 2019 |
| Aspen Film | Basalt | CO | January 27, 2019 | January 27, 2019 |
| Reelout Arts Project Inc. | Kingston | ON | January 31, 2019 | February 10, 2019 |
| Wexner Center for the Arts | Columbus | OH | January 31, 2019 | February 2, 2019 |
| Victoria Film Festival | Victoria | BC | February 1, 2019 | February 10, 2019 |
| Speed Art Museum | Louisville | KY | February 3, 2019 | February 3, 2019 |
| Vancity Theater | Vancouver | BC | February 4, 2019 | February 4, 2019 |
| Pan African Film Festival | Los Angeles | CA | February 7, 2019 | February 18, 2019 |
| Carbon Arc Cinema | Dartmouth | NS | February 15, 2019 | February 15, 2019 |
| Providence Children's Film Festival | Providence | RI | February 16, 2019 | February 24, 2019 |
| Athena Film Festival | New York | NY | February 28, 2019 | March 3, 2019 |
| The Roxy Theater | Missoula | MT | February 28, 2019 | February 28, 2019 |
| Outfest - Los Angeles Gay & Lesbian Film Festival | Los Angeles | CA | March 1, 2019 | March 6, 2019 |
| Fondation Massimadi | Dorval | QC | March 1, 2019 | March 1, 2019 |
| Cascade Festival of African Films | Portland | OR | March 2, 2019 | March 2, 2019 |
| Indiana University Cinema | Bloomington | IN | March 7, 2019 | March 8, 2019 |
| Portland International Film Festival | Portland | OR | March 7, 2019 | March 21, 2019 |
| Berkshire Int'l FF | Great Barrington | MA | March 10, 2019 | March 10, 2019 |
| FilmScene | Iowa City | IA | March 11, 2019 | March 11, 2019 |
| Zeitgeist Theatre & Lounge | Arabi | LA | March 13, 2019 | March 13, 2019 |
| Nickelodeon | Columbia | SC | March 19, 2019 | March 19, 2019 |
| Annapolis Film Festival | Annapolis | MD | March 21, 2019 | March 24, 2019 |
| Carnegie Mellon Int'l Film Festival | Pittsburgh | PA | March 21, 2019 | April 7, 2019 |
| University of San Francisco Human Rights Film Festival | San Francisco | CA | March 21, 2019 | March 23, 2019 |
| Brattleboro Women's Film Festival | Brattleboro | VT | March 22, 2019 | March 30, 2019 |
| Cleveland International Film Festival | Cleveland | OH | March 27, 2019 | April 7, 2019 |
| Carnegie Mellon Int'l Film Festival | Pittsburgh | PA | April 2, 2019 | April 2, 2019 |
| Minneapolis/SP International Film Festival | Minneapolis | MN | April 4, 2019 | April 20, 2019 |
| Wisconsin Film Festival | Madison | WI | April 4, 2019 | April 11, 2019 |
| Athens International Film and Video Festival | Athens | OH | April 8, 2019 | April 15, 2019 |
| Capital City Film Festival | Lansing | MI | April 11, 2019 | April 21, 2019 |
| Cornell Cinema | Ithaca | NY | April 12, 2019 | April 12, 2019 |
| Cinéma le Clap | Québec | QC | April 17, 2019 | April 26, 2019 |
| Alamo Drafthouse Park North | San Antonio | TX | April 17, 2019 | April 17, 2019 |
| OUTshine Film Festival | Miami | FL | April 18, 2019 | April 28, 2019 |
| Cinéma du Musée | Montreal | QC | April 19, 2019 | April 26, 2019 |
| Cinéma Moderne | Montreal | QC | April 19, 2019 | April 26, 2019 |
| Sōl Cinema Cafe | New York | NY | April 19, 2019 | April 25, 2019 |
| Quad Cinemas | New York | NY | April 19, 2019 | April 26, 2019 |
| TIFF Bell Lightbox | Toronto | ON | April 19, 2019 | April 25, 2019 |
| BAM | Brooklyn | NY | April 19, 2019 | April 25, 2019 |
| Film Streams | Omaha | NE | April 23, 2019 | April 23, 2019 |
| Filmfest DC - Washington DC International Film Festival | Washington | DC | April 25, 2019 | May 5, 2019 |
| Vancity Theater | Vancouver | BC | April 26, 2019 | May 2, 2019 |
| Orcas Island Film Festival | Eastsound | WA | April 26, 2019 | April 28, 2019 |
| Gene Siskel Film Center | Chicago | IL | April 26, 2019 | May 2, 2019 |
| Cinemapolis | Ithaca | NY | April 26, 2019 | May 2, 2019 |
| ByTowne Cinemas | Ottawa | ON | April 26, 2019 | May 2, 2019 |
| SIFF Cinema Uptown | Seattle | WA | April 26, 2019 | May 2, 2019 |
| Broadway Theatre | Saskatoon | SK | April 27, 2019 | May 7, 2019 |
| Reel Out Charlotte Film Festival | Charlotte | NC | April 28, 2019 | May 5, 2019 |
| Taos Center for the Arts | Taos | NM | April 28, 2019 | May 1, 2019 |
| Oxnard Film Society | Oxnard | CA | April 29, 2019 | April 29, 2019 |
| Princeton Garden Theater | Princeton | NJ | May 1, 2019 | May 1, 2019 |
| West Virginia Int'l Film Festival | Charleston | WV | May 2, 2019 | June 1, 2019 |
| Bijou Art Cinemas | Eugene | OR | May 3, 2019 | May 10, 2019 |
| Alamo Drafthouse - South Lamar | Austin | TX | May 3, 2019 | May 9, 2019 |
| a/perture | Winston Salem | NC | May 3, 2019 | May 9, 2019 |
| Real Art Ways | Hartford | CT | May 3, 2019 | May 10, 2019 |
| SIE FilmCenter | Denver | CO | May 3, 2019 | May 17, 2019 |
| Alexander Valley Film Society | Healdsburg | CA | May 4, 2019 | May 4, 2019 |
| Time and Space Limited | Hudson | NY | May 9, 2019 | May 20, 2019 |
| Belcourt Theatre | Nashville | TN | May 10, 2019 | May 16, 2019 |
| The Nightlight Cinema | Akron | OH | May 10, 2019 | May 16, 2019 |
| Plaza Theater | Atlanta | GA | May 10, 2019 | May 16, 2019 |
| The Art Theater | Champaign | IL | May 10, 2019 | May 16, 2019 |
| Angelika Film Center Dallas | Dallas | TX | May 10, 2019 | May 16, 2019 |
| Angelika Carmel Mountain | San Diego | CA | May 10, 2019 | May 16, 2019 |
| Consoliated Theatres Kahala 8 | Honolulu | HI | May 10, 2019 | May 16, 2019 |
| cinema-worcester | Barre | MA | May 10, 2019 | May 16, 2019 |
| Portland Museum of Art | Portland | ME | May 10, 2019 | May 12, 2019 |
| The Brattle | Cambridge | MA | May 10, 2019 | May 16, 2019 |
| Avalon Theatre | Washington | DC | May 10, 2019 | May 17, 2019 |
| MFA Houston | Houston | TX | May 10, 2019 | May 12, 2019 |
| Laemmle Glendale | Glendale | CA | May 10, 2019 | May 17, 2019 |
| Laemmle Royal | Los Angeles | CA | May 10, 2019 | May 17, 2019 |
| Ambler Theater | Ambler | PA | May 15, 2019 | May 15, 2019 |
| County Theater | Doylestown | PA | May 16, 2019 | May 16, 2019 |
| Globe Cinema | Calgary | AB | May 17, 2019 | May 31, 2019 |
| Living Room Boca | Boca Raton | FL | May 17, 2019 | May 24, 2019 |
| The Parkway Theatre | Baltimore | MD | May 17, 2019 | May 21, 2019 |
| Art House Cinema | Billings | MT | May 17, 2019 | May 23, 2019 |
| Camelot | Palm Springs | CA | May 17, 2019 | May 23, 2019 |
| Ragtag Cinema | Columbia | MO | May 20, 2019 | May 23, 2019 |
| Pickford Film Center | Bellingham | WA | May 21, 2019 | May 21, 2019 |
| Cinema Salem | Salem | MA | May 24, 2019 | May 30, 2019 |
| Living Room Theater | Portland | OR | May 24, 2019 | May 30, 2019 |
| Alamo Drafthouse New Mission | San Francisco | CA | May 24, 2019 | May 30, 2019 |
| Hippodrome Theatre | Gainesville | FL | May 30, 2019 | May 30, 2019 |
| The Kiggins Theatre | Vancouver | WA | May 31, 2019 | June 6, 2019 |
| The Philadelphia Film Society | Philadelphia | PA | June 5, 2019 | June 5, 2019 |
| Palace Theater | Chattanooga | TN | June 5, 2019 | June 9, 2019 |
| Sudbury Indie Cinema | Sudbury | ON | June 14, 2019 | June 21, 2019 |
| Grand Cinema | Tacoma | WA | July 16, 2019 | July 16, 2019 |