Praised by The Village Voice as the most "clear-eyed account of union organizing on film," The Killing Floor tells the little-known true story of the struggle to build an interracial labor union in the Chicago Stockyards. The screenplay by Obie Award-winner Leslie Lee, based on an original story by producer Elsa Rassbach, traces the racial and class conflicts seething in the city's giant slaughterhouses, and the brutal efforts of management to divide the workforce along ethnic lines, which eventually boiled over in the Chicago Race Riot of 1919. The first feature film by director Bill Duke, The Killing Floor premiered on PBS' American Playhouse series in 1984 to rave reviews. In 1985 the film was invited to Cannes and won the Sundance Film Festival Special Jury Award. It has been showcased at the Lincoln Center and festivals around the world.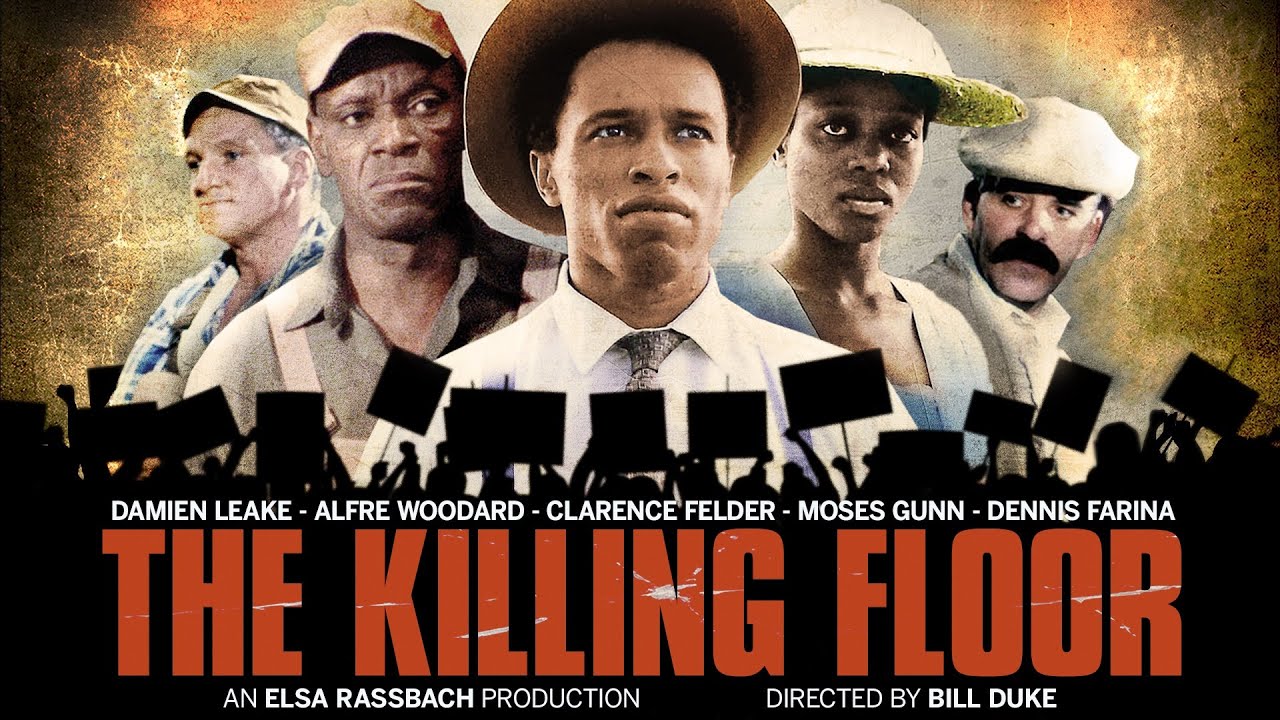 "Rich and revealing, a cry of historical dimensions...."

"A classic study in class hate, greed and stubborn idealism. You won´t forget it."

"Brilliantly captures the drama of the moment as well as the historical forces that produced it."

"...a particularly brilliant example of a cinema which knows how to use all the resources of fiction, without ever allowing its historical documentary side to be marred."

"...fascinatingly recreated period reality, in performances that combine political faith with artistic force...."

"A very powerful, very surprising film...."

"THE KILLING FLOOR" is part of our nation's history--a fascinating and bloody episode in the history of the U.S. labor movement... a powerful, personal drama...."

"Maybe what makes "The Killing Floor" so moving and absorbing is the way it succeeds in giving human scale and human impact to a moment in America's industrial history. What makes "The Killing Floor" memorable is its evocative re-creation of Chicago and the social milieu that existed there at the time of World War I. From the polemic tensions of the union meetings to Custer's visits to "Miss Dean's Social Shop" - to dictate, at 50 cents apiece, his letters home - the film breathes the color and life of the period."

"Mr. Leake, a talented and always ingratiating actor, provides a strong and intensely charged dramatic core. His wife is affectingly played by Alfre Woodard. This pilot certainly makes a strong case for an extended series."
Winner
Special Jury Award
Sundance Film Festival
Official Selection
Cannes Film Festival
Winner
Special Jury Award
USA Film Festival
Nominated
Best Actor
NAACP
Nominated
Best Actress
NAACP
Nominated
Best Episode
NAACP
Official Selection
London Int'l. Film Festival
Official Selection
Mill Valley Film Festival
Official Selection
Locarno Film Festival
Official Selection
Blacklight Film Festival
Official Selection
Los Angeles Film Festival