Vive L'Amour
Directed by
Ming-liang Tsai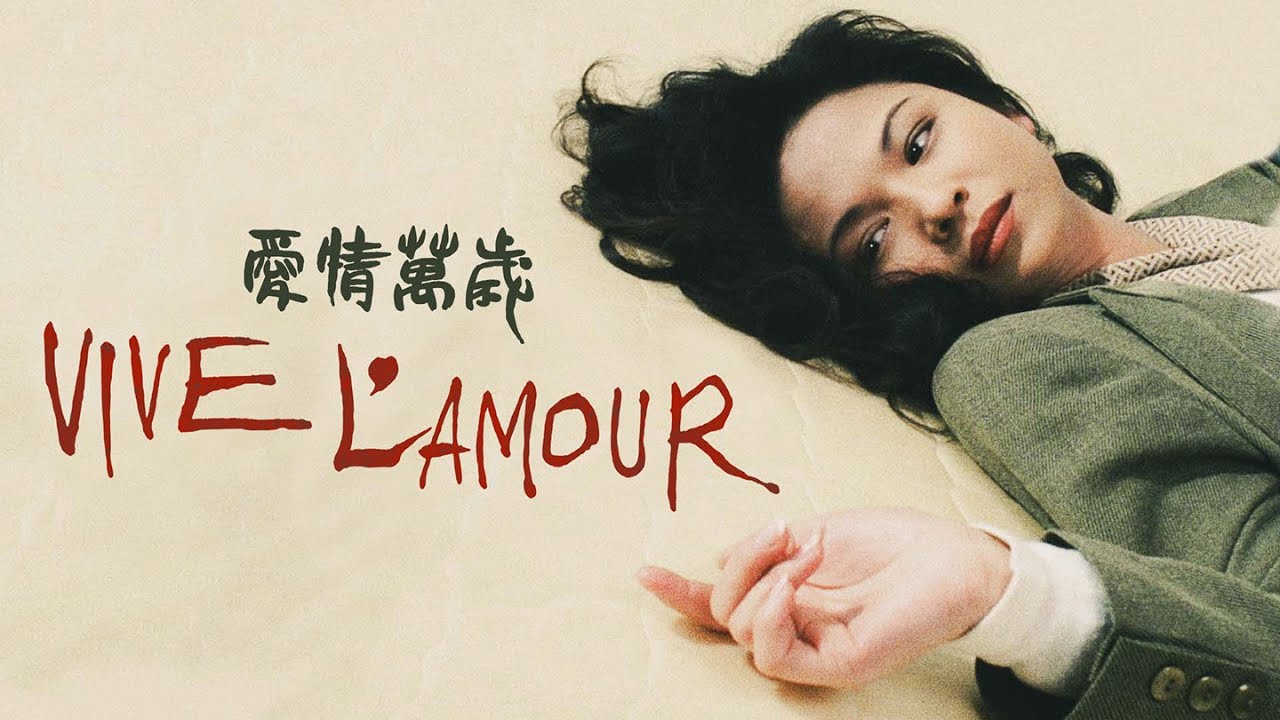 Blu-ray
$29.95 $19.98 Members
$39.95 $19.98 Non-Members
DVD
$24.95 $17.48 Members
$34.95 $17.48 Non-Members
The sophomore feature from Tsai Ming-liang (REBELS OF THE NEON GOD; GOODBYE, DRAGON INN) finds the acclaimed master of Taiwan's Second New Wave demonstrating a confident new cinematic voice. VIVE L'AMOUR follows three characters unknowingly sharing a supposedly empty Taipei apartment. The beautiful realtor May Lin (Yang Kuei-mei) brings her lover Ah-jung (Chen Chao-jung) to a vacant unit she has on the market, unaware that it is secretly being occupied by the suicidal funeral salesman Hsiao-kang (Lee Kang-sheng). The three cross paths in a series of precisely staged, tragicomic erotic encounters, but despite their physical proximity, they find themselves no closer to a personal connection.

Featuring an intoxicating mix of Antonioni-esque longing and surprising deadpan humor, VIVE L'AMOUR catapulted Tsai to the top of the international filmmaking world and earned him the prestigious Golden Lion at the 1994 Venice International Film Festival.
Cast
Chao-jung Chen

Kang-sheng Lee

Kuei-Mei Yang
DVD Features
BONUS FEATURES:
Tsai Ming-liang on Vive L'Amour featurette
16-page booklet with a new essay by film critic Nick Pinkerton
Discs: 1
Blu-ray Features
BONUS FEATURES:
Tsai Ming-liang on Vive L'Amour featurette
16-page booklet with a new essay by film critic Nick Pinkerton
Discs: 1
""Vive l'Amour," from 1994, is a wryly comic drama about a romantic triangle as well as the story of a luxurious and empty Taipei apartment where a suicidal salesman of cremation urns (Lee Kang-Sheng) lives as a squatter. When a real-estate agent (Yang Kuei-Mei) brings her lover (Chen Chao-Jung), a street vender, there, Tsai stages the trio's erotic comings and goings with an incremental screwball precision, as if Jacques Tati had given free rein to his sexual fantasies. But the filmmaker grounds the irony in quietly flamboyant melodramatic moods, as in a scene where the agent waits alone in bed with an operatic pout that calls to mind grand Technicolor tearjerkers. Setting much of the taciturn, delicately choreographed action amid the city's bustle, the director fuses a rigorously stylized vision with incisive documentary observation; Tsai is one of the great sardonic observers of urban spaces, with a keen eye for both the alien chill of gleaming towers and the poetic allure of decrepitude."

"Tsai Ming-liang's striking and beautiful second feature, a haunting look at alienation among three young individuals in Taipei--a real estate agent, a street vendor, and a gay and painfully withdrawn burial-plot salesman--won the Golden Lion at the Venice film festival and remains one of the key modernist works of the Taiwanese New Wave. Working principally without dialogue--with a feeling for both modern architecture and contemporary urban despair that often recalls Michaelangelo Antonioni--it gathers force slowly but builds to a powerful and devastating finale."

"Tsai takes what could be the ingredients for another "Maybe . . . Maybe Not" and creates a portrait of much formal beauty and austerity of human loneliness and longing so somber as to be demanding in the utmost. (Comparisons with Antonioni come to mind.) It unfolds, unaccompanied by music, as one superbly composed image of human isolation after another. Yet the often near-wordless "Vive l'Amour" is worth the not inconsiderable effort because it is an instance of an exceedingly bleak buildup, spiked by occasional dark humor, that actually pays off."

""Vive l'Amour," Tsai Ming-liang's haunting second feature, is a virtual homage to the Antonioni films "La Notte" and "Eclipse." As in those early-60's masterpieces, the gleaming anonymous architecture and thoroughfares of a booming metropolis (here it is contemporary Taipei) frame the blank spiritual lives of characters who drift through the city in a state of melancholy disconnection."

""Vive L'Amour" is a terrific showcase of not just the director's work but also the Taiwanese New Wave in general. The final scene, a more than five minutes long one take featuring May Lin, an iconic Taipei location and, yes, an intense palpable loneliness, will surely refuse to leave your minds for days on end. "

"Tsai Ming-liang's marvellous tragi-comic study of contemporary urban alienation in Taipei brings home the aching loneliness of its subjects' lives with excruciatingly long takes, often using static medium and long shots, of his characters doing virtually nothing in anonymously impersonal contexts."

"Watching Tsai manoeuvre these people into proximity with each other so that their lives may be changed is a large part of the film's pleasure, but it doesn't eclipse the sheer joy of discovering gradually where the film's own heart lies. Funny and heartbreakingly sad."

"Even when they are placed in the most absurd situations, Tsai Ming-liang's characters convey feelings so incredibly universal that it's impossible to not relate to them. Vive L'Amour is one of the best and brightest examples of this; it's never looked better to feel so alone."
Awards & Recognition
Winner
Golden Lion
Venice Film Festival
Winner
FIPRESCI Prize
Venice Film Festival
Winner
Best Feature Film
Golden Horse Film Festival
Winner
Best Director
Golden Horse Film Festival
Winner
Best Actress
Singapore Int'l. Film Festival
Official Selection
Toronto Int'l. Film Festival
Official Selection
Thessaloniki Int'l. Film Festival
Official Selection
Berlin Int'l. Film Festival
Official Selection
Karlovy Vary Int'l. Film Festival
You May Also Like...