The Killing Floor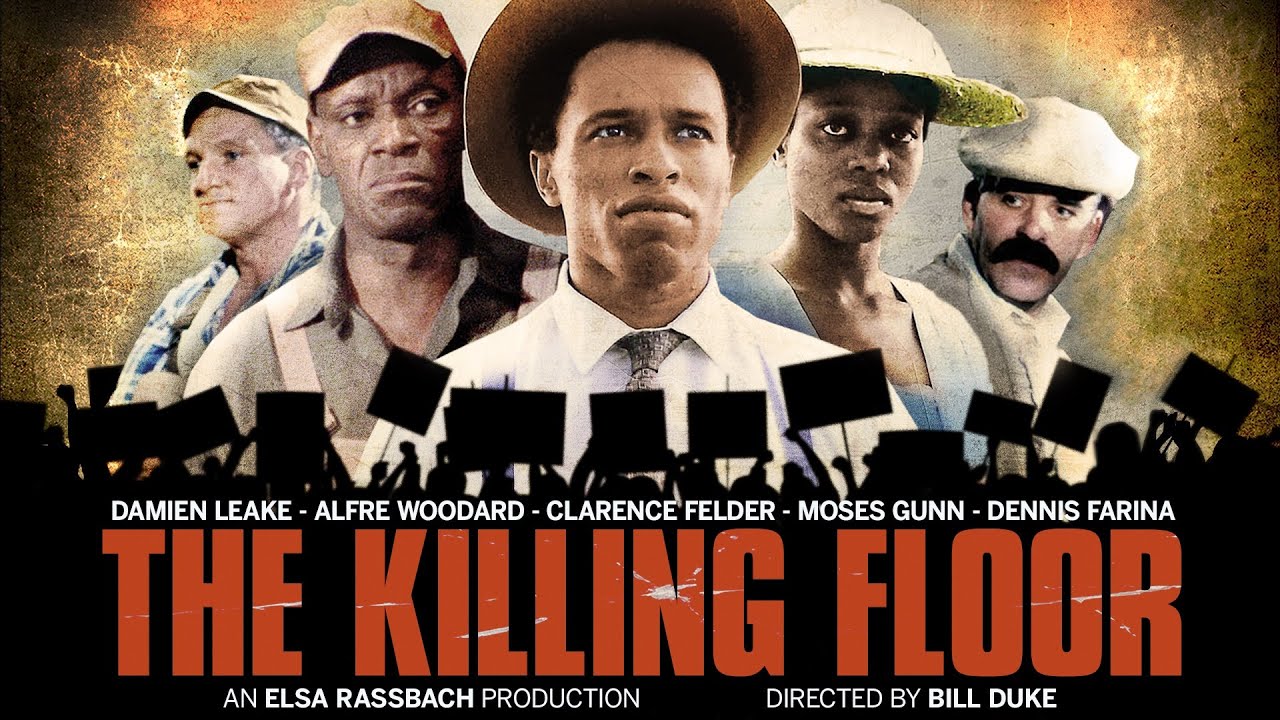 Blu-ray
$29.95 $19.98 Members
$39.95 $19.98 Non-Members
DVD
$24.95 $17.48 Members
$34.95 $17.48 Non-Members
Watch Online
$3.99 3-Day Rental
Watch Now with Streaming Subscription
Start your 14-day FREE TRIAL
AN ELSA RASSBACH PRODUCTION

Praised by The New Yorker as "a revelatory historical drama" and by The Village Voice as the most "clear-eyed account of union organizing on film," THE KILLING FLOOR (1984/1985) is the first feature film directed by Bill Duke and explores a little-known true story of an African American migrant in his struggle to help build an interracial union in the Chicago Stockyards. The screenplay by Obie Award-winner Leslie Lee is from an original story by producer Elsa Rassbach and is based on actual characters and events, tracing ethnic and class conflicts seething in the city's giant slaughterhouses, when management efforts to divide the workforce fuel racial tensions that erupt in the deadly Chicago Race Riot of 1919.

Damien Leake stars as Frank Custer, a young black sharecropper from Mississippi who lands a job on "the killing floor" of a meatpacking plant — one of tens of thousands of southern blacks who journeyed to the industrial north during World War One, hoping for more racial equality. Frank finally succeeds in bringing his wife Mattie (Alfre Woodard) and family up north, but when he decides to support the union cause, his best friends from the South, distrustful of the white-led union, turn against him.

The film was shot in Chicago in 1983 by a small indie production firm in the midst of the union-busting Reagan Era just as Chicago's first African-American mayor, Harold Washington, was elected. The filmmakers were advised by a team of prominent scholars led by renowned labor historian David Brody. The filmmakers drew on the immense talent of local Chicago union crews and guild actors and enjoyed an outpouring of community support. Funded by the National Endowment for the Humanities, foundations, corporations and dozens of national and local unions, THE KILLING FLOOR premiered on PBS' American Playhouse series in 1984 to rave reviews. In 1985 it was invited as a theatrical film to many festivals, including Cannes, and won the Sundance Film Festival Special Jury Prize. THE KILLING FLOOR, is a "classic study in class hate, greed and stubborn idealism. You won't forget it" (Newsday).

New 4K restoration by Made in U.SA. Productions, Inc. Laboratory services by UCLA Film and Television Archive Digital Media Lab; Audio Services by Deluxe Entertainment Services Group, Inc.; Digital Color Grading by Planemo (Berlin) and Alpha-Omega digital (Münich). Special thanks to Elsa Rassbach and the Sundance Institute Collection at UCLA Film and Television Archive.
Cast
Damien Leake

Alfre Woodard

Moses Gunn

Clarence Felder
DVD Features
Introduction by director Bill Duke
Q&A with Damien Leake and Elsa Rassbach
The Making of The Killing Floor: Pandemic Era Conversations
Interview with producer-writer, Elsa Rassbach
Booklet with new essays by Professor James R. Barrett, University of Illinois and Professor Joe William Trotter, Jr., Carnegie Mellon University
Discs: 1
Blu-ray Features
Introduction by director Bill Duke
Q&A with Damien Leake and Elsa Rassbach
The Making of The Killing Floor: Pandemic Era Conversations
Interview with producer-writer, Elsa Rassbach
Booklet with new essays by Professor James R. Barrett, University of Illinois and Professor Joe William Trotter, Jr., Carnegie Mellon University
Discs: 1
"Rich and revealing, a cry of historical dimensions...."

"A rare American labor union drama centered on Black experience, THE KILLING FLOOR is a minor miracle of narrative history, succeeding as drama, as pedagogy, and as a model of independent, inclusive, collaborative, local, unionized filmmaking. THE KILLING FLOOR draws on familiar tropes and narrative conventions, but lends them a charge by introducing an alienated Black gaze to typically white spaces, pointedly validating the cultural knowledge that Black southerners bring as spectators to both the union hall and the historical drama. Celebrated dramatist Leslie Lee's screenplay further makes virtues of archetypes and blunt expository dialogue; such immediacy is critical to the film's educational economy, which captures the riot's myriad underlying causes—the Great Migration, the First World War, the growth of organized labor, the European diasporas, and the centuries of exploitation and disenfranchisement of African Americans—in broad yet affecting strokes...THE KILLING FLOOR wasn't so much a product of its time as a renegade in it—and a treasure in ours."

"As compelling dramatically as its historical analysis is fascinating … Surprising that a film from the U.S. can be so frank and explicit in its exposure of the class struggle."

"A classic study in class hate, greed and stubborn idealism. You won´t forget it."

"Brilliantly captures the drama of the moment as well as the historical forces that produced it."

"...a particularly brilliant example of a cinema which knows how to use all the resources of fiction, without ever allowing its historical documentary side to be marred."

"...fascinatingly recreated period reality, in performances that combine political faith with artistic force...."

"A very powerful, very surprising film.... Well documented and researched, brilliantly acted by Damien Leake in the principal role, THE KILLING FLOOR displays another kind of militancy, above all narrative and carefully concerned with objectivity and accuracy.""

"THE KILLING FLOOR is part of our nation's history – a fascinating and bloody episode in the history of the U.S. labor movement... a powerful, personal drama...."

"Maybe what makes THE KILLING FLOOR so moving and absorbing is the way it succeeds in giving human scale and human impact to a moment in America's industrial history. What makes THE KILLING FLOOR memorable is its evocative re-creation of Chicago and the social milieu that existed there at the time of World War I. From the polemic tensions of the union meetings to Custer's visits to 'Miss Dean's Social Shop' – to dictate, at 50 cents apiece, his letters home – the film breathes the color and life of the period."

"Mr. Leake, a talented and always ingratiating actor, provides a strong and intensely charged dramatic core. His wife is affectingly played by Alfre Woodard. This pilot certainly makes a strong case for an extended series."

"THE KILLING FLOOR presents, in fascinating dialectical wrangles, the large-scale political events of the time: an original and fruitful template for the cinematic analysis of social systems and confrontation with history."

"THE KILLING FLOOR is a truly compelling, blistering, and vital historical document. Powerful, hard-hitting, but still exceptionally and tenderly crafted...."

"THE KILLING FLOOR is a striking illustration of the need to synthesize class and race. Based on the experience of trying to build a trade union in Chicago's stockyards during WWI, it is an object lesson on the need to abandon 'white privilege'. THE KILLING FLOOR ... belongs alongside 'Salt of the Earth' and 'Matewan' as truly engaged, working-class cinema. "

"Leake is terrific, as is Ernest Rayford as Frank's best friend who goes off to war in the film's first act....THE KILLING FLOOR is thrillingly watchable, profoundly stirring and perennially relevant. And it's an exemplary exercise in how to dramatize history and ideas. "

"Bill Duke's underseen and recently restored directorial debut, THE KILLING FLOOR ... is technically a made-for-TV movie; it debuted via PBS's American Playhouse series. But it has all the heft and energy of a theatrical movie epic, which suits its subject: the fight, among Black and white stockyard workers in early-20th-century Chicago, to form an interracial workers union. "

"For families looking for more historical context on the systemic racism that many Americans are starting to attempt to better comprehend, THE KILLING FLOOR is essential viewing. The acting is magnificent across the board, and the story doesn't shy away from thorny complexities and ugly truths. It should inspire discussion about what has and hasn't changed since the events depicted in the movie, how events like these continue to haunt the American backstory, the development of the labor movement, and where we go from here as we strive to make a more just society. "

"Chicago film history remains the richer for its existence and its recent digital restoration."

"The extensive background research guiding Lee's script is realized not just in the film's depiction of the unionization process, but also in the language employed by the characters, as well as in the archival footage used as interstitials between scenes. And the function of those qualities adds up to far more than just period detail and regional texture: The film's relationship to established facts and records are what drives its narrative momentum – and what eventually grants it true purpose. THE KILLING FLOOR reveals itself to be an intrinsically American historical epic. "

"THE KILLING FLOOR is a marvelously acted and incisively nuanced exploration of how racial and ethnic divisions have been historically used to break up labor organizing. It's an instant essential discovery, the kind of film I hope someday plays in classrooms to teach kids about parts of our country's past that some teachers neglect to mention. Needless to say, it's even more necessary viewing in an era when simmering tensions in our history are boiling over."

"Few American movies have this kind of reach. Executive producer Elsa Rassbach, who worked on the story with black playwright Leslie Lee, was educated in West Germany, and Brecht Lives in the jaunty narration that accompanies speeded-up newsreel footage and in the filmmakers' detachment – the way their characters act logically (if shortsightedly) in response to dire economic conditions."

"A tribute to the superhuman efforts of dedicated filmmakers like Rassbach...."

"This film succeeds in telling the untold truth at a time when we are exposed only to revisions of the same old story. As we careen blindly through these numbed out days of historical and cultural amnesia, any restoration to memory of time actually lived brings with it a kind of revelatory shock, an insistent shaking up of the deaf-, dumb-, and blindness that constitute a simulated present."

"It's an important history lesson, a compelling drama and a lovingly recreated period piece all rolled into one."

"The Killing Floor brings uncommon clarity and emphasis to talking points that still bear repeating. "
Awards & Recognition
Winner
Special Jury Award
Sundance Film Festival
Official Selection
Cannes Film Festival
Winner
Special Jury Award
USA Film Festival
Nominated
Best Actor
NAACP
Nominated
Best Actress
NAACP
Nominated
Best Episode
NAACP
Official Selection
London Int'l. Film Festival
Official Selection
Mill Valley Film Festival
Official Selection
Locarno Film Festival
Official Selection
Blacklight Film Festival
Official Selection
Los Angeles Film Festival
You May Also Like...