Marquise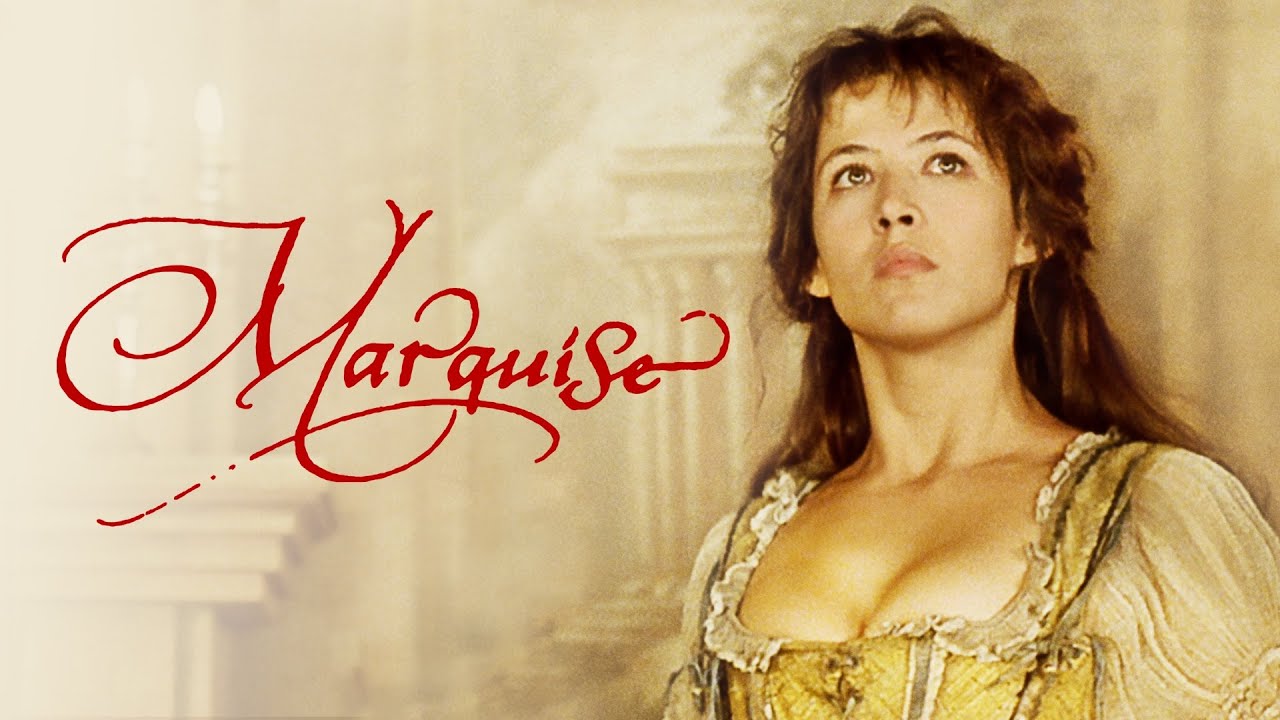 Blu-ray
$29.95 $19.98 Members
$39.95 $19.98 Non-Members
DVD
$24.95 $17.48 Members
$34.95 $17.48 Non-Members
Watch Online
$3.99 3-Day Rental
Watch Now with Streaming Subscription
Start your 14-day FREE TRIAL
Born into poverty, Marquise (Sophie Marceau) is a promiscuous young woman who uses her exquisite beauty and seductive dancing to earn a living. When the distinguished Molière (Bernard Giraudeau) and his theatre troupe come to town, Marquise mesmerises the men, especially the lead actor, nicknamed Gros René, (Patrick Timsit), who falls in love with her and asks for her hand in marriage. She agrees on condition that she joins the group to become an actress. Gros René is deeply in love with his wife, and even accepts her on-going infidelities, until she meets Jean Racine (Lambert Wilson), while they are performing for King Louis XIV and his court. Although flirtatious in manner, Marquise carries honour and integrity in her heart. Following Racine's coaching, Marquise's acting talents improve dramatically, and she is at last able to perform the leading dramatic role in his play Andromaque.
Cast
Sophie Marceau

Lambert Wilson

Bernard Giraudeau

Patrick Timsit
DVD Features
Interview with director Véra Belmont
Essay by Laurence Marie-Sacks
Discs: 1
Blu-ray Features
Interview with director Véra Belmont
Essay by Laurence Marie-Sacks
Discs: 1
""Marquise" is a sprightly costumer based on the fetching dancer-cum-thesp who dazzled Moliere, Racine and the Sun King himself before making a suitably theatrical exit in 1668 at age 35. Toplined by Sophie Marceau, the unpretentious dramedy manages to make viewers feel sophisticated and involved without requiring an advanced degree in French history. An attractive cast, bawdy subtext, lavish production design and peppy score are among the pleasures in Vera Belmont's energetically helmed pic...."

"Marquise is an exuberant, sexy and rollicking entertainment."

"Sophie Marceau is dazzling as the alluring Marquise: she captivates at every turn with her coquettish style and delicate beauty. Disarmingly casual about her morals, yet virtuous in spirit, Marquise is the very epitome of the femme fatale: a goddess of feminine wiles, a bewitching enchantress. The entire cast is top notch, the production design excellent and the cinematography beguiling. "

"French director Vera Belmont's lusty 1997 costume drama is a terrific showcase for Sophie Marceau, who has never been more charming than as the title character, a dancing girl from the sticks who works her way up the social ladder to become a member of Moliere's acting troupe and performer for the royal court. ...[A] delicious glimpse at a bygone (17th century) era. The movie looks great on Blu-ray."
Awards & Recognition
Nominated
Grand Jury Prize
AFI Fest
Nominated
Best Music
Cesar Awards
Official Selection
Toronto Int'l. Film Festival
Official Selection
Venice Film Festival
You May Also Like...