Chess Story
Directed by
Philipp Stölzl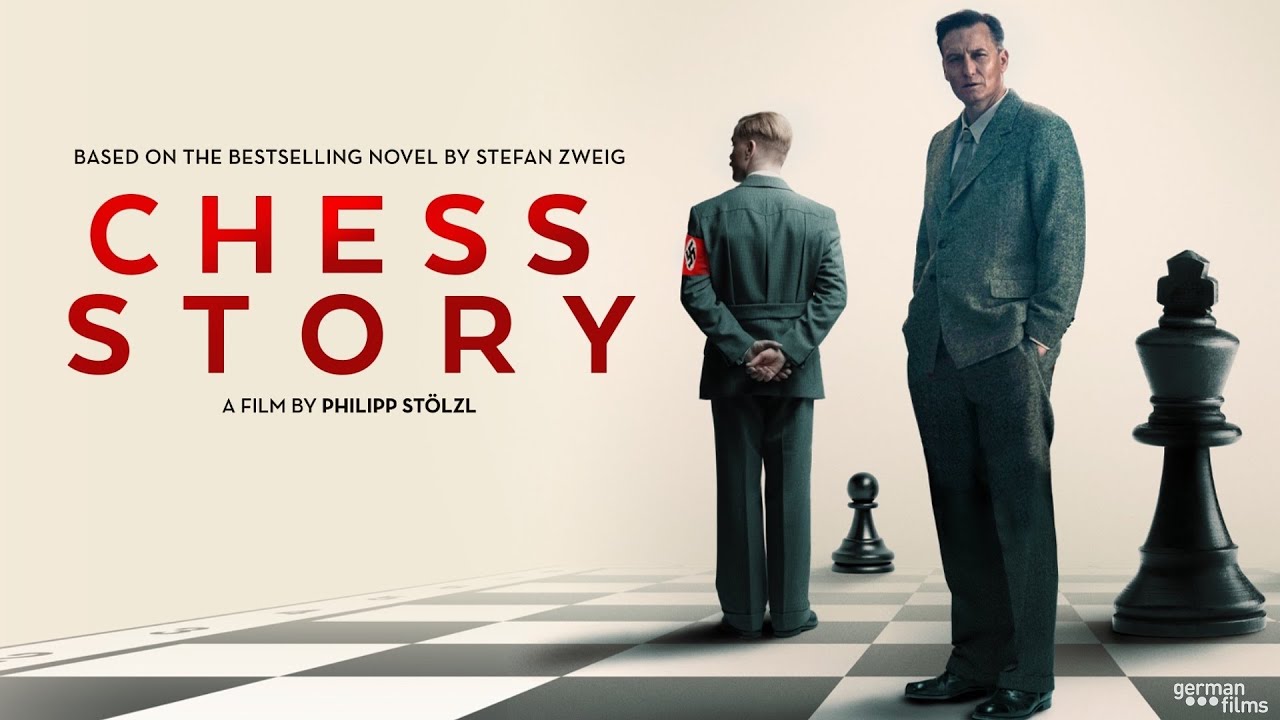 Vienna, 1938: Austria is occupied by the Nazis. Dr. Josef Bartok (Oliver Masucci) is preparing to flee to America with his wife Anna when he is arrested by the Gestapo. As a former notary to the deposed Austrian aristocracy, he is told to help the local Gestapo leader gain access to their private bank accounts in order to fund the Nazi regime. Refusing to cooperate, Bartok is locked in solitary confinement. Just as his mind is beginning to crack, Bartok happens upon a book of famous chess games. To withstand the torture of isolation, Bartok disappears into the world of chess, maintaining his sanity only by memorizing every move. As the action flashes forward to a transatlantic crossing on which he is a passenger, it seems as though Bartok has finally found freedom. But recounting his story to his fellow travelers, it's clear that his encounters with both the Gestapo and with the royal game itself have not stopped haunting him. Adapted with opulent attention to period detail by filmmaker and opera director Philipp Stölzl, CHESS STORY brings Stefan Zweig's stirring final novella to life.
Cast
Oliver Masucci

Rolf Lassgård

Albrecht Schuch

Birgit Minichmayr
DVD Features
Bonus Short Film
Der Tunnel
Directed by Christoph Daniel and Marc Schmidheiny
Germany, Switzerland
German with English subtitles
10 minutes

A student on a train finds himself in an existential dilemma when the tunnel he is traveling through never seems to end.

Discs: 1
"A diabolically knotted psychological thriller... Thanks to an outstanding performance by Mr. Masucci, who recalls Mads Mikkelsen's haunted intensity; an elegant turn by Mr. Schuch as his genteel torturer; and charged direction by Mr. Stölzl, who parsimoniously hands out each clue, the film remains breathless throughout."

"Stölzl craftily melds the genres of period drama and psychological thriller, not for the purposes of reheated nostalgia, but to shed a cold light on the recursions of historical trauma."

"Philipp Stölzl's "Chess Story" masterfully confounds expectations as a tautly calibrated, intricately constructed Chinese puzzle of a period drama set during Nazi Germany's annexation of Austria. Masucci, who appears in every scene, potently conveys a multitude of unspoken emotions with his remarkably expressive face.... He's never less than riveting...."

"Spellbinding! A gripping, provocative and genuinely poignant journey."

"The film is an acting showcase. The entire ensemble is fantastic. Chess Story is a subtle, soft-spoken killer of a film."

"The adaptation of ""Chess Story"" is one of the rare cases in which the film has not only managed to leave the original behind, but to surpass it. Visually intoxicating...."

"Chess Story's presentation is expressly cinematic, expertly using cuts, angles, lights, shadows, and colors to convey Bartok's increasingly tenuous grasp on reality. Chess Story is a stunner."

"Chess Story is a diabolically knotted psychological thriller...."

"Great performances and lavish production values.... Watching Masucci and Schuch face off onscreen is thrilling...."

"Sensational adaptation of Stefan Zweig...a forceful drama, smart and thrilling. Masucci acts superbly.... "

"Enthralling, great cinema! "
Awards & Recognition
Winner
Best Actor
Bavarian Film Awards
Winner
Best Production
Bavarian Film Awards
Winner
Jury Award for Best Narrative Feature
Prescott Film Festival
Winner
Director's Choice for Best Screenplay
Prescott Film Festival
Official Selection
Jerusalem Film Festival
Official Selection
Miami Jewish Film Festival
Official Selection
Toronto Jewish Film Festival
You May Also Like...