New York, an alternate present: the quantum computing revolution has begun and investors are lining their pockets in the quantum trading market. Building the network, though, requires miles of infrastructure to be laid between huge magnetic cubes by "cablers" - unprotected gig workers who compete against robots to pull wires over rough terrain.

Queens delivery man Ray Tincelli (Dean Imperial) is skeptical of new technology, and the buy-in to start cabling is steep, but he struggles to support himself and his ailing younger brother, who suffers from a mysterious illness. So when Ray scores a shady permit, he believes their fortunes may have finally changed. What he doesn't expect is to be pulled into a conspiracy involving hostile cablers, corporate greed, and the mysterious "Lapsis" who may have previously owned his medallion. Called "a smart class-conscious sci-fi parable" by The Hollywood Reporter, LAPSIS is a darkly comic and timely look at the gig economy and the failed utopian promises of big tech.
Director & Cast
Director:

Noah Hutton

Starring:

Dean Imperial

Starring:

Madeline Wise

Starring:

Dora Madison

Starring:

Frank Wood

Starring:

Arliss Howard

Starring:

Ivory Aquino

Starring:

James McDaniel

Starring:

Babe Howard
Where to Watch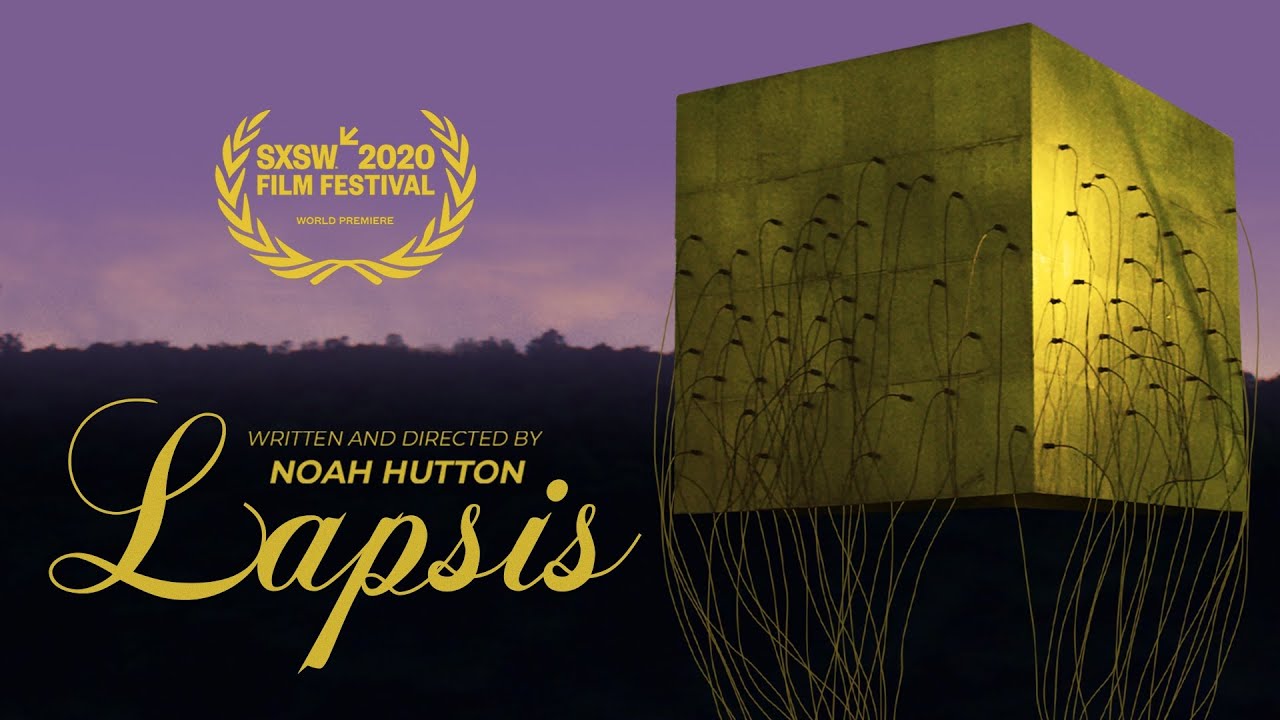 "A sharp take-down of unfettered crony capitalism."

"A smart class-conscious sci-fi parable."

"Noah Hutton's feature debut is an ambitious blend of modern technology and timeless concerns, bolstered by a winking good humor."

"Hutton scores a direct hit on the persistent machinations of corporations to nickel and dime everyone at each turn. The ridiculous complexity of life in systems designed for other systems instead of humans is ridiculed to great effect. "

"Like a lot of indie science fiction, writer/director/composer Noah Hutton's Lapsis takes place in a five-minutes-from-now sort of future, one which looks like if the Apple II-era '90s suddenly leaped forward into quantum computing, and the rest of the world was left behind. But the allure of Lapsis isn't in its retrofuturism, but in the way Hutton melds these technologies with a dark sense of humor about the consumptive nature of capitalism. The technology may change, but workers will still owe their soul to the company store."

"Feeling like a combination of Sorry to Bother You and Wild, Noah Hutton's ambitious directorial debut Lapsis is the type of sci-fi satire that the festival circuit was built to discover. Thanks to a creative premise and witty dialogue, Hutton has delivered a film that is both entertaining and thought-provoking."

" Hutton's inventive storytelling weaves a clever web throughout...."

"An ingenious social satire wrapped inside an intelligent sci-fi parable."

"Lapsis lives on the central performance by Dean Imperial as Ray, and that life is undoubtedly vibrant and complex."

"A world away from the clichés of popular science fiction, this is the real thing."

"...entertainingly original.... This tale of a floundering gig-economy worker straddles both the bleak present-tense reality of Ken Loach's "Sorry We Missed You" and the subversive near-future political satire of Boots Riley's "Sorry to Bother You" while arriving at a whimsical critique all its own."

"Commanded by nuanced performances and smartly written by Hutton, Lapsis is a tremendous, radicalizing sci-fi project that not only feeds you anger but offers solutions to its existential crises deep in the American wilderness. "

"Alternately creepy, amusing, exciting and consistently interesting, Lapsis shows what can be accomplished when you combine intelligence, imagination, talent and concern. More, please, Mr. Hutton."

"Somewhere between our current dystopia and the future imperfect lies the wily, charming "Lapsis," writer/director Noah Hutton's lo-fi sci-fi satire about gig economy workers in a recognizable alternate reality. A refreshing instance of world building where the emphasis is on satirical wit, activist smarts and character, it feels like one of those movies we'll be looking at decades from now and, however tech has transformed our lives, saying "Yeah, 'Lapsis' had that.""

"Cloaking outrage in humor, Hutton fashions a world of scams, pulling financial markets and the wellness industry, middle men and monopolies into a tumble-dryer of ideas. "Lapsis" isn't a polemic, it's a caricature, and all the more likable for having its claws sheathed in velvet."

"Lapsis has a strong, satirical style, a smart setting, and great characters to tell a near future story dealing with some very modern, timely societal issues. Watch it."

"Noah Hutton's slightly-sci-fi satire of gig economy work is in fact a bracingly original slice of absurdism, a woodsy slipping-white-middle-class companion piece to Boots Riley's African-American urbanity in Sorry To Bother You, with a similar tenor of near-future whimsy. It's a political critique ultimately as straightforwardly pro-worker as Norma Rae, yet as inspirationally silly as Woody Allen's Sleeper. "

"Lapsis is one of those rare indie films which succeeds as an engaging sci-fi narrative, while also working as a smart political critique of gig-worker economics and the fantasy of the 'American dream' of capitalism which allows exploitation to flourish."

"Well-articulated and brilliantly built with suspense and an anxious sense of a never-explored situation, Hutton conceived a mind bending and powerful take on the troubles of economic despair seen through the consequences on tech abuse over humanity. A terrifying and impressive cinematic punch."

"Imperial, Howard, and Wise embody their characters, and the dilemmas they face, with skill and commitment, enhancing Hutton's smart filmmaking."

"Lapsis is a unique film that's as funny as it is smart and is an absolute must-see for 2021."

"It's a darkly funny send-up of the modern gig economy in a world whose technological advancements swiftly turn it into a surveillance state."
Winner
Jury's Choice Award
Bucheon Int'l. Fantastic Film Festival
Nominated
Grand Jury Award
SXSW
Nominated
Best First Screenplay
Indie Spirit Awards
Official Selection
Fantasia
Official Selection
Cleveland Int'l. Film Festival
Official Selection
Nantucket Film Festival