Their Finest Hour: 5 British WWII Classics
Their Finest Hour: 5 British WWII Classics
Directed by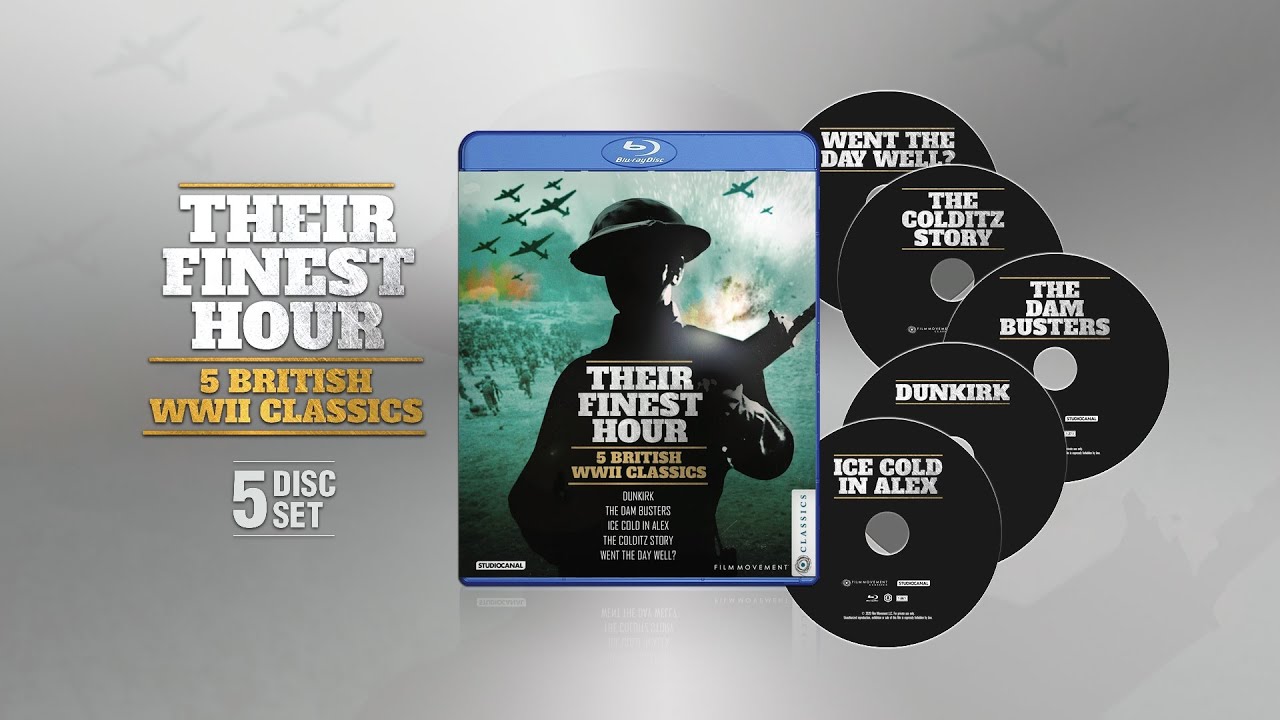 THEIR FINEST HOUR brings together five digitally restored British WWII classics for the first time on Blu-ray. Titles include the Ealing Studios-produced, Graham Greene adaptation WENT THE DAY WELL? (1942) along with Michael Anderson's Oscar-nominated THE DAM BUSTERS (1955), as well as three box-office hits starring John Mills – THE COLDITZ STORY (1955), DUNKIRK (1958) and ICE COLD IN ALEX (1958).

WENT THE DAY WELL? (1942, directed by Alberto Cavalcanti)
Based on a story by Graham Greene, this Ealing Studios wartime production tells the story of a quiet English village that has been infiltrated by disguised German soldiers.

THE COLDITZ STORY (1955, directed by Guy Hamilton)
Nazi Germany believed that no man could escape from Colditz Castle, but a group of Allied prisoners of war were determined to prove them wrong. Starring John Mills.

THE DAM BUSTERS (1955, directed by Michael Anderson)
Against all odds, an RAF squadron destroys German dams with "bouncing bombs." Based on true events and the inspiration for Star Wars' Death Star attack sequence.

DUNKIRK (1958, directed by Leslie Norman)
John Mills and Richard Attenborough star in the first cinematic retelling of the 1940 evacuation of Dunkirk, code-named Operation Dynamo. Produced by Ealing Studios.

ICE COLD IN ALEX (1958, directed by J. Lee Thompson)
Captain Anson (John Mills) of the Royal Army Service Corps dreams of an ice cold beer but first he must lead his medical unit to safety across the perilous North African desert.
Blu-ray Features
The Colditz Story:
Colditz Revealed documentary
Restoration Comparison

The Dam Busters:
The Making of The Dam Busters
Sir Barnes Wallis Documentary
617 Squadron Remembers
Footage of the Bomb Tests
The Dam Busters Royal Premiere
Restoration of a Classic
The Dam Busters Trailer

Dunkirk:
Dunkirk Operation Dynamo Newsreel
Young Veteran Ealing Short
Interview with actor Sean Barrett
John Mills home movie footage

Ice Cold In Alex:
Extended Clip from A Very British War Movie Documentary
John Mills Home Video Footage
Interview with Melanie Williams
Steve Chibnall on J. Lee Thompson
Interview with Sylvia Syms

24-page booklet with essay by film writer and curator Cullen Gallagher
Sound: Mono
Discs: 5
"Their Finest Hour aggregates a quintet of really interesting British films about England's experience in World War II…These are all fascinating films in their own ways, and several of them contain hugely enjoyable performances by a coterie of notables like John Mills, Michael Redgrave, and Richard Attenborough. At least a couple of them may well offer stories generally unknown "on this side of the pond", even to those who have a good general knowledge of the ins and outs of World War II…a very engaging set, with generally solid technical merits and some extremely appealing supplements. Recommended."

"Film Movement's Their Finest Hour: 5 British WWII Classics is a superb set of titles.... The transfers are great and the extras copious, making this a must-have set, even for those already in possession of the earlier Anchor Bay DVD set. A terrific set well worth the price, Their Finest Hour is a DVD Talk Collectors Series title."

"The 5 WWII British films from Film Movement Classics, THEIR FINEST HOUR, a PMPick, are excellent studies in history, filmmaking, and wartime propaganda."

"It's a good choice of titles. I'd only seen three of the five, and I'd call them all classics, for different reasons. It's a good chance to see excellent early work by three directors known better for blockbuster pictures of the 1960s…Film Movement Classics' Blu-ray of Their Finest Hour 5 British WWII Classics is quite a package."

"Went The Day Well? contemplates some pretty grim stuff, but with equipoise, discipline and a sense of humor that embody exactly the virtues it sets out to defend. Apart from its considerable historical interest, this is a movie about how civilization survives."

"Went the Day Well? is the innocent-sounding title of one of the most subversive films to come out of World War II, a British drama that was unsettling in its day and is even more so now. "

"Easily one of the best prisoner-of-war yarns to come from any British studio, The Colditz Story is a taut real-life meller, based on the personal experiences of the author, Pat Reid."

"...a meat-and-potatoes war movie, solid in performance, direction and stiff-upper quotient. "

"As tense as The Wages of Fear, and featuring cinema's most refreshing beers.... Ice Cold in Alex (1958) has a simple, concise plot yet packs a hefty moral weight. Sixty years after its release, director J. Lee Thompson's desert epic still stands up as an essential war film."

"For those who thought Christopher Nolan's shattering summer spectacle could have benefitted from greater historical context need look no further than Leslie Norman's epic wartime classic from 1958..."

"This is a motion picture which must be seen. Redgrave as Dr. Wallis turns in one of the finest performances you'll see this year, anywhere. Richard Todd and the rest of the supporting cast are also excellent."

"Michael Anderson's The Dam Busters is an inherently inspiring true story, told in a reassuringly straightforward manner. There's no cloying sentimentality or self-congratulatory worthiness here, just honest British endeavour, innovation and determined stiff upper-lipped-ness. Excellent. A triumph of British ingenuity, the story The Dam Busters served to highlight the best of the war effort in a wonderfully celebratory fashion. "

"Director J. Lee Thompson captures the stark, pitiless atmosphere of the desert superbly. The screenplay skillfully blends excitement, a hint of romance and a fearful sense of danger."

"It is... a tightly crafted, hard-nosed war picture, told mostly through the eyes of two protagonists … It may not be as formally flamboyant as Nolan's telling, but it's a brilliant antecedent."
Awards & Recognition
Nominated
Best British Film
BAFTA Awards (The Colditz Story)
Nominated
Best Film
BAFTA Awards (The Colditz Story)
Nominated
Special Effects
Academy Awards (Dam Busters)
Nominated
Best Film
BAFTA Awards (Dam Busters)
Nominated
Best British Film
BAFTA Awards (Dam Busters)
Nominated
Best British Screenplay
BAFTA Awards (Dam Busters)
Winner
FIPRESCI Prize
Berlin Film Festival (Ice Cold in Alex)
Nominated
Golden Bear
Berlin Film Festival (Ice Cold in Alex)
Nominated
Best Film
BAFTA Awards (Ice Cold in Alex)
Nominated
Best British Film
BAFTA Awards (Ice Cold in Alex)
Nominated
Best Actor
BAFTA Awards (Ice Cold in Alex)
Nominated
Best British Screenplay
BAFTA Awards (Ice Cold in Alex)