Saint-Narcisse
Directed by
Bruce LaBruce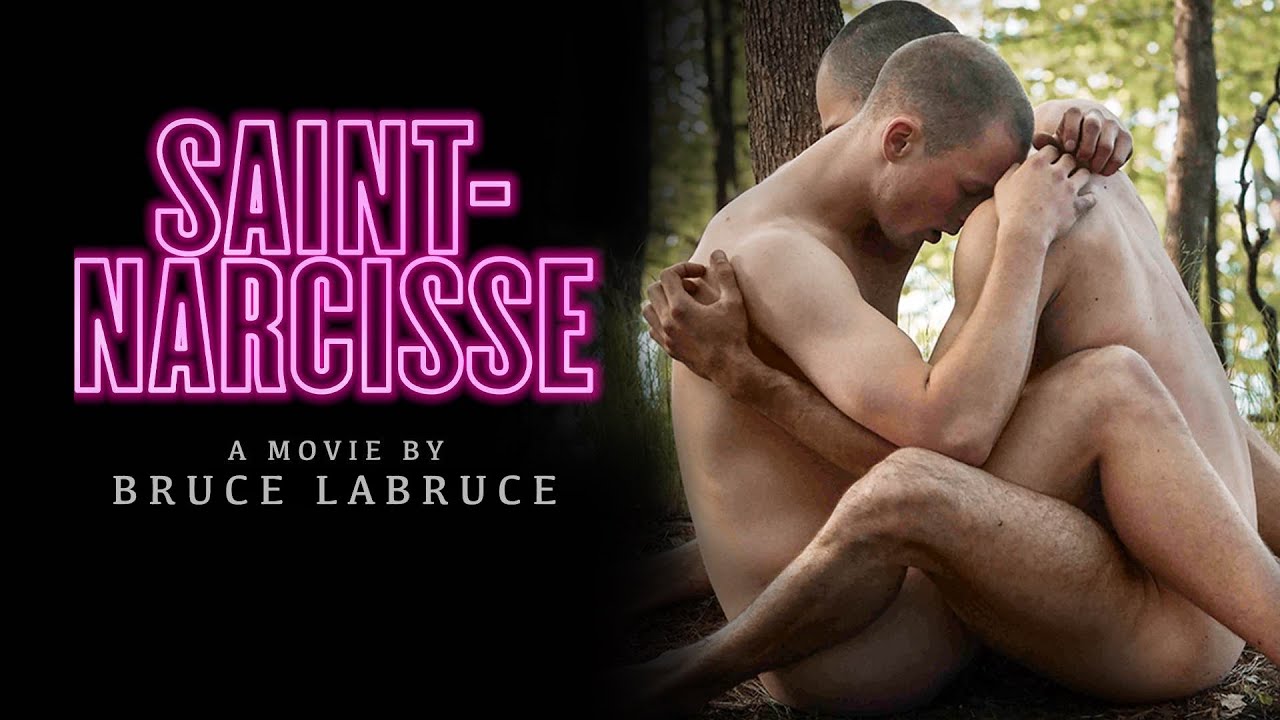 The latest from Bruce LaBruce, Canada's reigning "King of Kink," follows Dominic, a young man with a fetish… for himself. Nothing turns him on more than his reflection, with much of his time spent taking Polaroid selfies.

When his loving grandmother dies, he discovers a deep family secret: his lesbian mother didn't die in childbirth and he has a twin brother, Daniel, raised in a remote monastery by a depraved priest, held captive against his will! The power of destiny brings together the two beautiful, identical brothers, who, after being reunited with their mother Beatrice, are soon embroiled in a blasphemous web of sex, revenge and redemption.

Set in the early 1970s and the afterglow of sexual liberation, SAINT-NARCISSE is a love letter to the psychosexual thrillers of that era. Elegant visuals are combined with LaBruce's notorious punk provocations in "a wild ride that's enjoyable in all its B-movie glory while also titillating the intellect" (The Hollywood Reporter).
Cast
Félix-Antoine Duval

Tania Kontoyanni

Alexandra Petrachuk

Andreas Apergis
DVD Features
Commentary by director Bruce LaBruce
Deleted Scenes
Sound: 5.1 Surround & 2.0 Stereo
Discs: 1
"The filmmaking isn't only ravishing to look; the writing and narrative construction have become a little more sophisticated, too (...). A wild ride that's enjoyable in all its B-movie glory while also titillating the intellect."

"A sleazy, incestuous, soapy good time.... Saint-Narcisse is a welcome piece of provocative entertainment, existing as its own weird and sincere comedy for those willing to take the ride. "

"This totally twisted tale lets director Bruce LaBruce uphold his title as Canada's King of Kink. Saint-Narcisse has a hard-on for our self-obsessed selfie culture. It's a delightfully blasphemous romp for a generation of kids reared on notions of "me, me, me." "

"LaBruce's post-Stonewall, post-Warhol sensibility never shies away from transgression, which is why he has made the bravest, most emotional films about gay experience by any artist in the Western Hemisphere."

"Director-writer Bruce LaBruce has long been famous as the master of Canadian "queercore" cinema, and he has achieved in Saint-Narcisse his magnum opus. The film is artfully designed as an homage to vintage gay porn but with far higher production qualities."

"Born out of a punk tradition, and steeped in the aesthetics of porn and soap opera narrativizing, LaBruce's films are political, funny, and sexy in ways that so often elude contemporary queer cinema in the west. His latest film, the Quebecois erotic doppelgänger thriller Saint-Narcisse, isn't so different in these respects. In fact, it may be the slickest manifestation of LaBruce's cinematic stylings yet. Saint-Narcisse ... is a new, thoughtful instance of his particular brand of audacity."

"Saint-Narcisse follows nicely in LaBruce's ouevre, combining his nack for blowing far past any boundaries of what is deemed 'decent' into territory where most fear to tread, and giving us a delightful, erotic mysterious tale, with just the right amount of discomfort to make us look a little longer in the mirror."

"It's a gloriously bizzare, endlessly intriguing dark comedy homage to the Québécois cinema of the 1970s with a theme inspired by the Greek myth of Narcissus that resonates in these days of social media solipsism. LaBruce's names for the men is a homage to De Palma's female twins , Dominique and Danielle, played by Margot Kidder in his 1972 horror classic Sisters, and in its own way Saint-Narcisse is just as memorable and enjoyable as that cult picture. [I]n fact this might just be a twincestuous future cult classic. "

"Handsomely produced …with sincere performances, lush cinematography and a classical score…never fails to follow through on its scandalous promise."

"Saint-Narcisse is a strong contender for the most "WTF did I just watch" film of the year, and a hell of a ride you're not likely to forget."

"LaBruce has always been a filmmaker who blends the sexually provocative with the intellectually complex, and the sheer density of ideas in this film will beckon and enrapture. Or, if you prefer, you can simply enjoy the '70s horror-movie aesthetic of the piece, which LaBruce carefully conjures with his camerawork, lighting, and editing choices. One thing is certain: You'll never look at the myth of Narcissus (or the patronizing notion offered by some straights that narcissism is what being gay amounts to) in the same way again."

"It's a sinfully satisfying cinematic snack."

"Canadian provocateur Bruce La Bruce creates a superbly visceral experience using witty visuals and themes that continually challenge things like gender, sexuality and religion."

"His most poetic masterpiece yet...."
Awards & Recognition
Winner
Fanheart3 Award Graffetta d'Oro
Venice Film Festival
Nominated
Queer Lion
Venice Film Festival
Nominated
New Visions Award
Sitges Film Festival
Official Selection
Toronto Int'l. Film Festival
Official Selection
Vancouver Int'l. Film Festival
Official Selection
Busan Int'l. Film Festival
You May Also Like...