Millie Lies Low
Directed by
Michelle Savill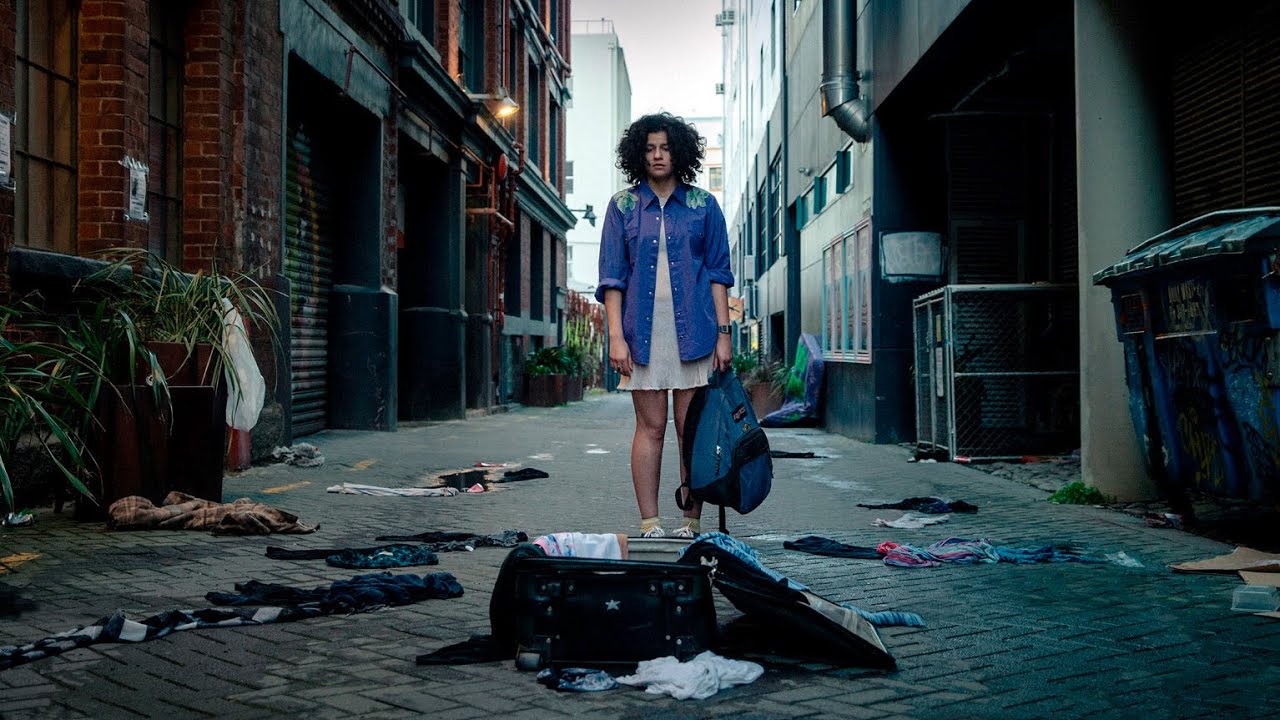 ---
To submit an order, request a preview screener, or ask a question contact Erin Farrell
Millie, an architecture student from Wellington, New Zealand, has landed a competitive internship with a prestigious architecture firm in New York City. Her friends, family and professors have proudly bid her farewell as she takes this next step in her career. With her life in Wellington now on hold, all Millie has to do next is get to New York. However, she is suddenly struck with a panic attack right before her plane takes off and is unable to reboard after the attack subsides. Desperate and ashamed, she decides to save face by hiding in plain sight around Wellington until her next flight out. Suitcase in tow, Millie anxiously evades suspicion with the help of crafty social media and full-blown denial. Though narrowly convincing her friends that everything has gone to plan, after witnessing their lives without her, Millie's self-destructive spiral turns into a reluctant journey towards self-discovery.

An exemplary debut feature from Michelle Savill, this SXSW selection has been praised for capturing "the chaotic self-destruction of Fleabag and the anxious missteps of Eighth Grade," (FilmDaze). Millie Lies Low showcases newcomer Ana Scotney's comedic chops and proves to be a timely comment on mental health and the performative nature of social media.
"From goofy grins to anxiety-ridden wide eyes, Scotney's range and talent is clear: her comic timing and commitment to Millie's mania are exemplary."

"Michelle Savill's congenial first feature takes its likeable protagonist deep into a cringing nightmare. [T]he film and its characters win our sympathies without reservation."

"One bad decision leads to another in this well-acted and sharply filmed comedy. "

"Millie Lies Low sits somewhere between the chaotic self-destruction of Fleabag and the anxious missteps of Eighth Grade. It takes the popular tropes of messy women, social media, and an impending sense of existential anxiety, and lets it make our skin-crawl in new ways. "

"Millie Lies Low represents a fabulous start for two relatively unknown talents. Writer-director Michelle Savill makes her feature debut behind the camera, bringing to life an endearing story with an unapologetically awkward lead. In her first lead film role, Scotney shows that she's capable of being funny and carrying a movie...."

"Director Michelle Savill wraps up the arrested development, coming-of-age cringe comedy in a moment of joy that spells big things for the first-time feature filmmaker."
Awards & Recognition
Nominated
Crystal Bear Generation 14plus
Berlin Int'l. Film Festival
Nominated
Emerging Filmmaker Award
Minneapolis St. Paul Int'l. Film Festival
Official Selection
SXSW Film Festival
Official Selection
Milwaukee Film Festival
Official Selection
Cleveland International Film Festival
You May Also Like...