Fritz Lang's Indian Epic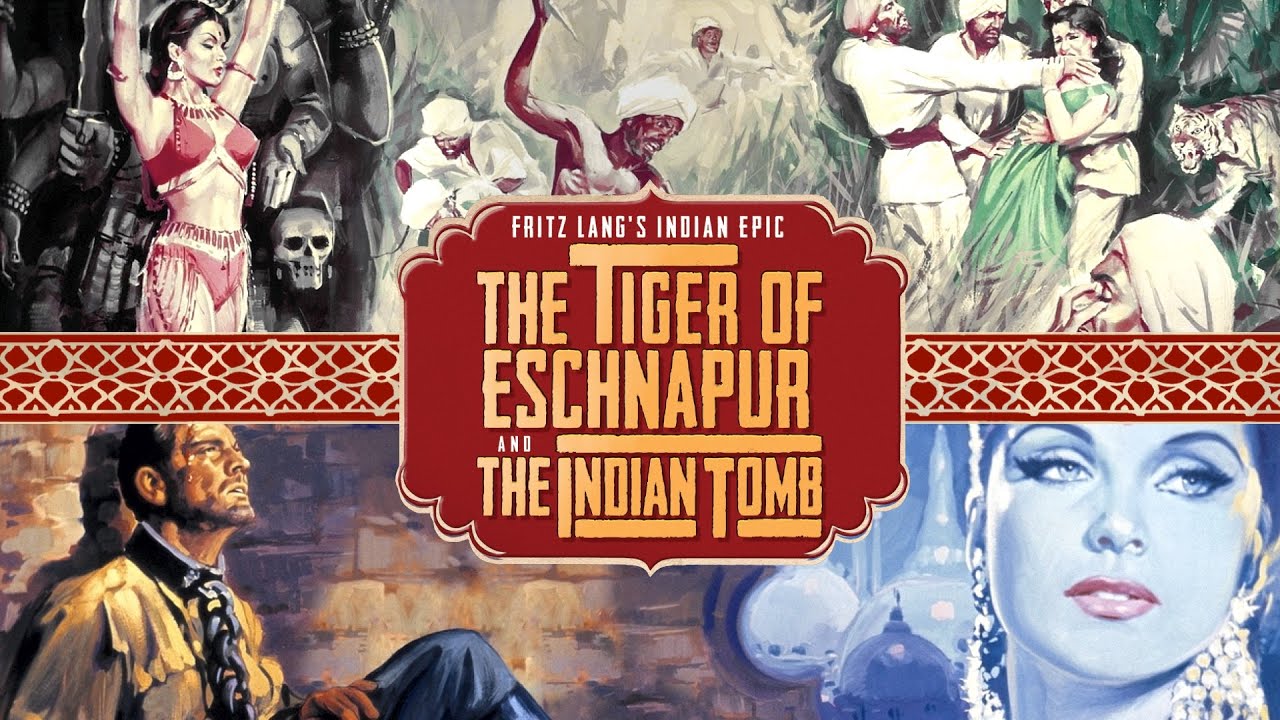 After more than two decades of exile in Hollywood, master filmmaker Fritz Lang triumphantly returned to his native Germany to direct this lavish two-part adventure tale from a story he co-authored almost forty years earlier. Called to India by the Maharajah of Eschnapur, architect Harald Berger (Paul Hubschmid) falls in love with beautiful temple dancer Seetha (Debra Paget), who is promised to the Maharajah. Their betrayal ignites the ruler's wrath, and the lovers are forced to flee into the desert for a series of spectacular adventures. Featuring breathtaking location photography and nail-biting suspense, this epic is highlighted by Paget's erotic temple dance, a battle to the death with a man-eating tiger, sandstorms, a cave of lepers, and a bloody palace rebellion. Together these films provide a cinematic link between classic silent serials and the modern action thrills of Indiana Jones and The Mummy. Previously available in America as "Journey to the Lost City," a radically condensed 90-minute version, these exotic masterpieces are presented in this 2-disc boxed set newly restored to their original splendor.

These films are presented as originally created. They are a product of their time and contain cultural or racial depictions that viewers may find offensive.
Cast
Debra Paget

Paul Hubschmid

Walther Reyer
DVD Features
Two-disc set
Commentary by film historian David Kalat
The Indian Epic documentary
Debra Paget, For Example - video essay by Mark Rappaport
Essay by Tom Gunning
Sound: Mono
Discs: 2
Blu-ray Features
Two-disc set
Commentary by film historian David Kalat
The Indian Epic documentary
Debra Paget, For Example - video essay by Mark Rappaport
Essay by Tom Gunning
Sound: Mono
Discs: 2
"A sweeping adventure filled with tigers, snakes, romance and the camp-connoisseur favorite Debra Paget, these two movies marked Lang's return to German film production after more than two decades in Hollywood, although both were shot and set in India. [M]ore than three hours of expressionistic color and wild plot developments await."

"Perhaps Lang's most open-aired use of color, and wonderful, late-period entertainment."

"Visually striking adventure film, in beautiful color."

"Exciting, exotic and imaginative epic."

"[A]n utterly glorious late testimonial and summative work from one of cinema's titans."

"Packed with romance, action and humour, Der Tiger also features some solid performances, especially from Swiss actor Paul Hubschmid, and is an all-round success. "

"Fritz Lang's gorgeous, action-packed Indian Epic pours new thematic wine into charmingly old-fashioned narrative bottles…The 4K restorations of the films, each housed on its own Blu-ray disc, look spectacular."

"O delirium! O fever dream! Film Movement Classics hits us between the ocular orbs with a Blu-ray 4K restoration of Fritz Lang's two fabulous epics that were largely overlooked and maligned until the digital era…Fritz Lang's The Tiger of Eschnapur and The Indian Tomb are hothouse flowers of cinema with gyrating dancers, man-eating tigers, pagan magic, groaning lepers, and mythic moments. Has Lang ever come up with more desperate, mad, or heroic symbols of futile struggle?... In 2001, David Kalat's Fantoma Films unleashed a restored DVD with Kalat's well-informed commentary (retained on this Blu-ray). What was then a revelation for many of us may be more so for those who see the eye-popping color work in 4K, for just about every shot counts as gorgeous eye candy, thanks to the magical lighting of photographer Richard Angst."

"Seen in its full Eastmancolor glory, The Tiger of Eschnapur and The Indian Tomb form an old-fashioned storybook tale, with its special charm lying in our knowledge of Fritz Lang's fixation on fatalism and intricate patterns of betrayal and intrigue. Plus the films contain the erotic highlight of the decade, the spectacle of star Debra Paget's scorching 'temple dances' before an all-male audience of admirers. Film Movement Classics' Blu-ray of Fritz Lang's Indian Epic presents The Tiger of Eschnapur and The Indian Tomb on separate discs, in spectacular HD transfers….The new transfer betters the 2001 DVD from Fantoma, with HD adding a lot to our appreciation — Seetha's costumes, the golden birdcage in her chambers, the pomp and circumstance of a procession of elephants and soldiers."

"A must-see, Fritz Lang's Indian Epic is a one-of-a-kind adventure bursting with gorgeous color cinematography, exotic Indian locations, high adventure, still-erotic dance sequences, silent cinema-style poetry and much more. A DVD Talk Collectors Series title."