Final Set
Directed by
Quentin Reynaud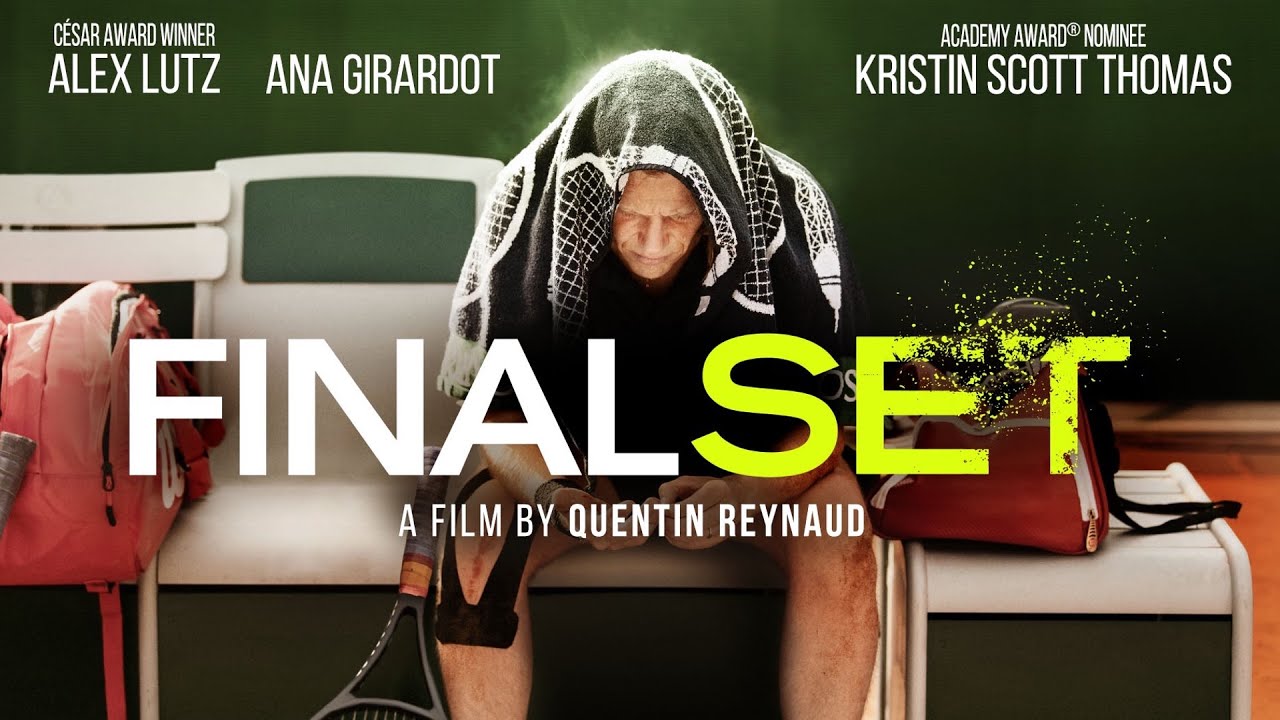 Once described as a young professional tennis prodigy, Thomas (Cesar-winner Alex Lutz) never had the career in the game he had hoped for. At 37, he decides to return to the French Open at Rolland Garros, in spite of his declining physical fitness and shattered knee. Although his wife Eve (Ana Girardot) and mother Judith (Oscar-nominee Kristin Scott Thomas) advise him to give up on his unlikely ambition, Thomas obsessively perseveres. He will have to face his own demons as well as the intense competitive qualifying rounds to reach the tournament and eventually face a young tennis genius who disturbingly reminds him of his younger self.
"Highly Recommended" - The Sound View

"A muscular addition to foreign-language library collections." - Video Librarian
Cast
Alex Lutz

Ana Girardot

Kristin Scott Thomas
DVD Features
Bonus Features:

Q & A with Quentin Reynaud and Alex Lutz
(Courtesy Film at Lincoln Center and Unifrance)
Sound: 5.1 Surround & 2.0 Stereo
Discs: 1
"Reynaud, in Final Set, achieves what few directors have in elevating the sports film genre to cinematic art."

"Final Set has everything that you come for in an inspirational sports film and more. [C]aptivating viewing."

"Final Set delivers an entertaining and emotionally satisfying story...."

"Final Set will appeal to anyone who has picked up a racket or has felt conflicted about how far they would, could go to win."

""Final Set" is a tense dissection of obsession, broken dreams, and narcissism. The script and direction, both by Quentin Reynaud, are airtight, floating a sine wave of ups and downs. It's a must-see."

"A superbly executed ensemble effort that plays out against a backdrop that's the stuff of modern myth-making, as we watch Alex Lutz's Thomas fight against time and his own body's wear-and-tear, we're right there with him, eager to battle it out to the very end."

"Alex Lutz aces every scene as the impossibly driven Thomas, playing his part both on and off the court with skill and awareness of his character's psychology. Lending strong support are Kristin Scott Thomas as Thomas' drill-sergeant-like mom and Ana Girardot as his wife, an accomplished athlete who tabled her own tennis dreams. Everything about "Final Set" feels like the real deal, from the closet full of tennis rackets to the intense tennis match making up its final minutes. "

"To his credit, writer-director Quentin Reynaud is never guilty of dumbing down the logistics of the game in order to appeal to a broader audience. Instead, he allows 20 minutes of real-time match play, a thrillingly shot and edited sequence, to serve as the film's climax; and Lutz, in addition to turning in a compelling performance as an athlete raging against the dying of the light, is also a genuinely fine tennis player himself, utterly convincing as a pro"

"Rarely has tennis—or any sport, for that matter—been so vividly dramatized in its psychological, emotional and physical turmoil as in Quentin Reynaud's illuminating and compelling drama...."
Awards & Recognition
Official Selection
Zurich Film Festival
Official Selection
Angouleme Film Festival
You May Also Like...