A Good Woman is Hard to Find
IN THEATERS AND ON DEMAND 05.08.2020
Directed by
Abner Pastoll
A Good Woman is Hard to Find
A dynamic killer thriller, with its finger firmly on the pulse of stark social commentary and shattering suspense. Recently widowed mother of two Sarah (Sarah Bolger, "The Spiderwick Chronicles", "Emelie") is desperate to know who murdered her husband in front of her young son, rendering him mute. Coerced into helping a low-life drug dealer stash narcotics stolen from the local Mr Big, she's forced into taking drastic action to protect her children, evolving from downtrodden submissive to take-charge vigilante.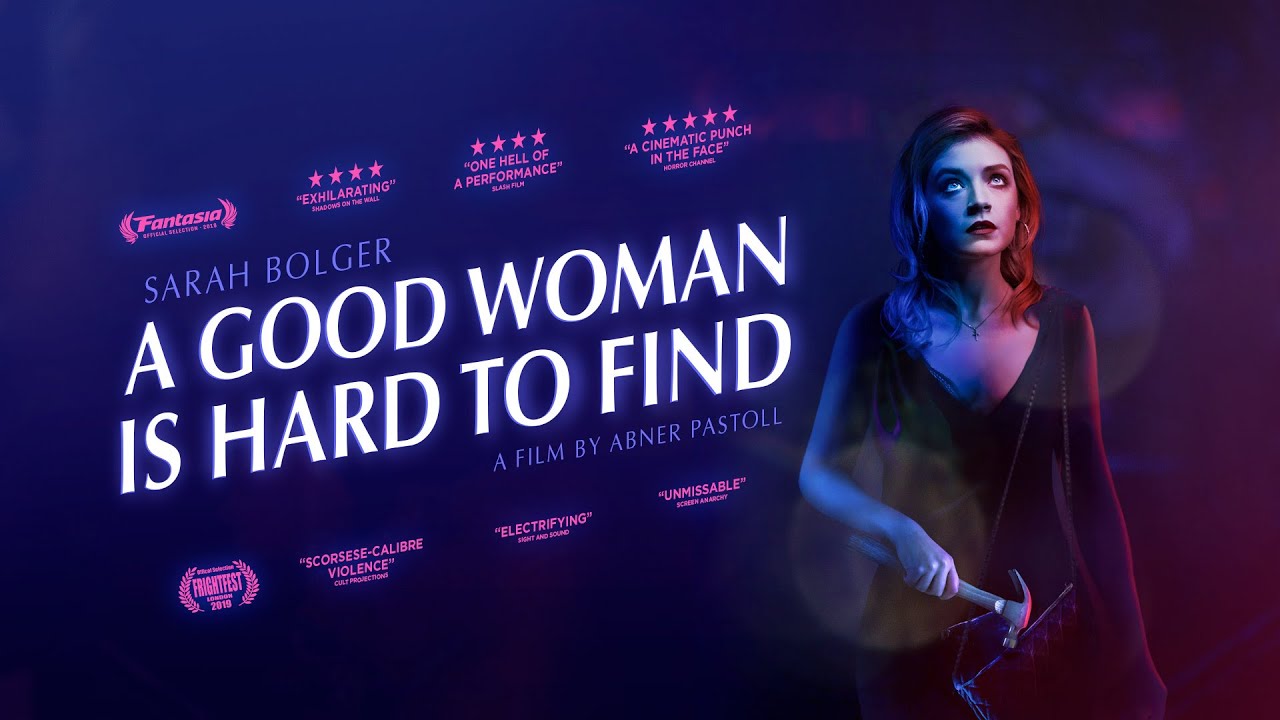 "A Good Woman Is Hard to Find has the perfect marriage of a director who knows how to generate suspense and an actress capable of delivering a knockout, three-dimensional performance."

"A career making turn by Sarah Bolger hooks the audience from the get-go, turning A Good Woman is Hard to Find into a film that is a cut above the typical urban crime thriller."

"Sarah Bolger's magnetic performance anchors this nerve-rattling suspense thriller...."

"Blaney and Pastoll should be commended for choosing to tell this particular story, and for presenting it with sensitivity, nuance and verve, but A Good Woman is Hard to Find is, more than anything else, a showcase for the considerable talents of Sarah Bolger. On this evidence, she's about to break out like her namesake in a massive way (though, hopefully, with less sawing off of body parts required)."

"A Good Woman Is Hard To Find is a lean, mean, painfully real crime thriller that will make you cheer for Sarah and her ability to overcome the worst of humanity and come out the other end kicking all sorts of ass."

"The filmmakers add a witty spin to the usual formulaic trajectory for a British sink-estate thriller, elevating it with Bolger's powerful performance and a story that refuses to glorify the machismo of lowlife thugs. Watching this mamma bear protect her young is frankly exhilarating."

"A Good Woman is Hard to Find is a shocking, intense piece of fiction about a woman's struggle to protect her children, and herself, after her husband is stabbed to death. Better still, Sarah Bolger plays the lead role. Her recent work on FX's series Mayans M.C. (the Sons of Anarchy spin-off) already proved she has a knack for portraying conflicted women living in a patriarchal world. She fills each frame with vulnerability, power, and the love of a mother who'd walk to hell and back barefoot if it meant keeping her children from harm."

"Well-crafted on every level, A GOOD WOMAN IS HARD TO FIND works above all because of how attuned it is to its people.... And if you want to find one of the very best performances by a woman on the recent genre scene, you need look no further."

"At its core, A Good Woman Is Hard to Find is a film about systemic oppression and one woman's desperation to overcome it. Bolger couldn't have played her part more perfectly; her performance is nuanced in the transformation that her character goes through. At the beginning, Sarah has unkempt hair and dark circles under her eyes, but by the end, she is strutting with newfound confidence. And all of this leading to a conclusion that has the biggest She Did That energy of the year."

"A Good Woman is Hard to Find is a mix of social realism, crime thriller and family drama. What makes it stand out is a strong central performance from Bolger. "

"With a story that doesn't feel engineered or preachy, but rather grounded in its view of the everyday struggles of women or single mothers in the UK, A Good Woman Is Hard to Find feels timely and unnerving while also embracing its genre roots. Add to this a breakout performance by Sarah Bolger and the film becomes an unmissable crime thriller from a new director to watch."

"Beautifully executed... part gritty crime drama and part revenge thriller. It's not so much a horror film, but it has no shortage of horrific moments. Reminiscent of a European take on South Korean vengeance stories, Director Abner Pastoll rewards genre lovers with a brutal crescendo that is unexpected yet wholly gratifying. Cast in subdued tones, the film presents a color-drained realism only to later contrast it with graphic violence and vibrant hues, paralleling the journey of the protagonist."

"A Good Woman is Hard to Find is absolutely fantastic. At the center of this film, is the impressive and multi-layered performance from Sarah Bolger. It's award-worthy work here. Kudos must be given to screenwriter (and Oscar nominee) Ronan Blaney. There is no shortage of past baggage and incredible hurdles for the character of Sarah to overcome. And Bolger just nails everything – from the smallest of reactions to the lecherous supermarket employee, to doing the unthinkable in her bedroom, to turning into a legit femme fatale. It truly is a perfect firestorm of fantastic writing in the hands of an expert thespian. We care about Sarah from the get-go, and never, ever does that sympathy dwindle. Sarah is a real character with real problems and yet – she's also an ultimate bad-ass. That sort of organic progression is a fascinating (and rare) find in film. Simply, Bolger is mesmerizing."

"Beautifully observed and with a terrific central performance from Bolger, this is a film that takes a simple story and gives it real power. Director Abner Pastoll builds up the tension masterfully...."

"Bolger's portrayal of this endearing character is a pleasure to watch unfold. A Good Woman Is Hard to Find is a crime thriller with a huge heart that rates as a must-see for genre film fans."

"More than anything, A Good Woman Is Hard to Find is a film that shines a beacon on Bolger with a devastating performance that had better win some awards this year. A dramatic thriller that is compelling and tense until the very end, A Good Woman Is Hard to Find should have no trouble finding an audience that connects with this powerful story. "

"Abner Pastoll's feature-length debut is a nightmare of crime, murder, and dismemberment. One of the highlights of 2019's Fantasia Fest...."
Winner
Best Film
FrightFest
Winner
Best Actor
FrightFest
Winner
BritFlicks Award - Best Actor
FrightFest
Winner
BritFlicks Award - Best Villain
FrightFest
Winner
BritFlicks Award - Best of British
FrightFest
Winner
Best Actress
ScreamFest
Nominated
Fresh Blood Award
Fantasy Filmfest
Official Selection
ScreamFest
Venue

City

State

Begins

Ends

Panic Fest
North Kansas City
MO
January 24, 2020
January 30, 2020
Cinema Village
New York
NY
May 8, 2020
May 14, 2020